I brought a 10ft 2 piece fly rod intending to use the top for a softer float top for my multi top roach special project ,all looked ok at first glance but..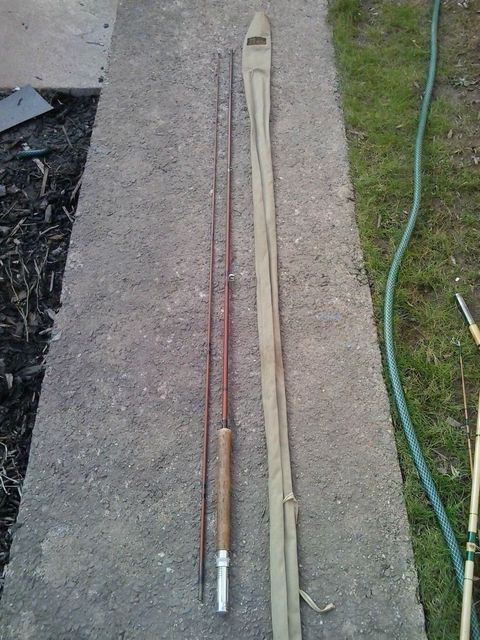 after removing the rings and whippings it become apparent there was a major flaw in the rod low down on the top section ,you could twist the blank quite bad .don't know what they'd done to it too cause the damage .so I've had to reject it as a top section for the other project ,that'll need another sourcing for it .now i'm stuck with a 10ft fly rod with damaged top ,now this rod owes me money so its not going too waste.
last year there was talk on here about a drop shot cane rod that intrigued me and stuck in my mind as a possible future project .well it occoured to me I have a suitable blank in this 10ft fly rod ,the action would be ok although the rod could loose a foot or two .which was perfect for this rod as the damage was at the bottom end of the tip section and could cut this out and move the ferrule forwards and I could cut the grip end of the bottom section off and after measuring the blank I could adjust both to 44" and keep the ferrule central creating a 7' 3" blank (44 X 2 =88" , divide by 12 to get new ft length =7.3333 7ft 3" ) a nice length for a drop shot rod ,the new butt will be stiffened by the new grip reel seat arrangement and the tip is soft enough to get jiggy with and sensitive enough too show bites .
I've a idea of the way I want the grip ,this isn't going too be a vintage rod but a retro one so i'll be mixing old and new ,old blank and new fittings / style .