Tench
Posts: 2552
Joined: Wed Sep 14, 2011 9:28 pm
Location: Bradford, West Yorkshire
Nice work Steve
Quot homines, tot sententiae. (And now we are 6!)
---
Chub
Posts: 1010
Joined: Sat Jun 01, 2013 7:21 pm
Location: Belgium
Unbelievable! You´re a wizard.
---
Eel
Posts: 2011
Joined: Tue Jan 03, 2012 11:49 am
Location: Ilkeston, Derbyshire
Contact:
funny you should mention Wizard ,as I've a project in waiting to build one later this winter once I've finished with my current obsession with dropshot rods . my dropshot rod project as (as they tend too do) expanded and i'll have three in total a light-medium ,a light and a ultra-light ,the medium-light (5gr-12gr) is the prototype ,i'll try a few things out on ,the light (3gr-8gr) will be built to whats worked out on the medium rod build or improved on ,both based on splitcane fly rods ,the ultra light is really just for fun with small perch and will be built on a solid glass blanks (a old quivertip and part of a old sea spinning rod and the converted fly grip and other salvaged parts that's not good enough for use elseware byut still usable .
I try to be funny... but sometimes I merely look it! Steve
---
Grayling
Posts: 715
Joined: Wed Apr 15, 2015 9:28 am
Location: Houten, the Netherlands
Contact:
---
Eel
Posts: 2011
Joined: Tue Jan 03, 2012 11:49 am
Location: Ilkeston, Derbyshire
Contact:
well just a little update the medium rods handle and grip is in place ,awaiting some rings and whipping too be done ,I've made up the handle/reel seat up but needed a blank too mount it on ,so I had to keep a eye out for a suitable fly blank .now this left me in a quandary what do I do while waiting for parts or glue too cure .well never was very good at twiddling me thumbs .
it was then I noticed the bits of rods in the reject corner and in the bundle was a solid glass rod or two .and I got too thinking modern ultra ultra light drop shot rods are really ,really slim and that sort of finesse impossible to achieve with cane .but what about vintage solid glass rods as the base for a build .a lot of modern DS rods incorporate a quiver tip style top joint for the desired action not only to agitate the bait but also to show shy bites better .
so after a rummage in the rubbish ,I had a solid glass spinning rod ,i'd brought for the agate rings ,that I could use parts of it and there was also a o ld quivertip section ,id replaced on a old carbon rod with a upgraded one & I did have that converted fly seat doing nothing .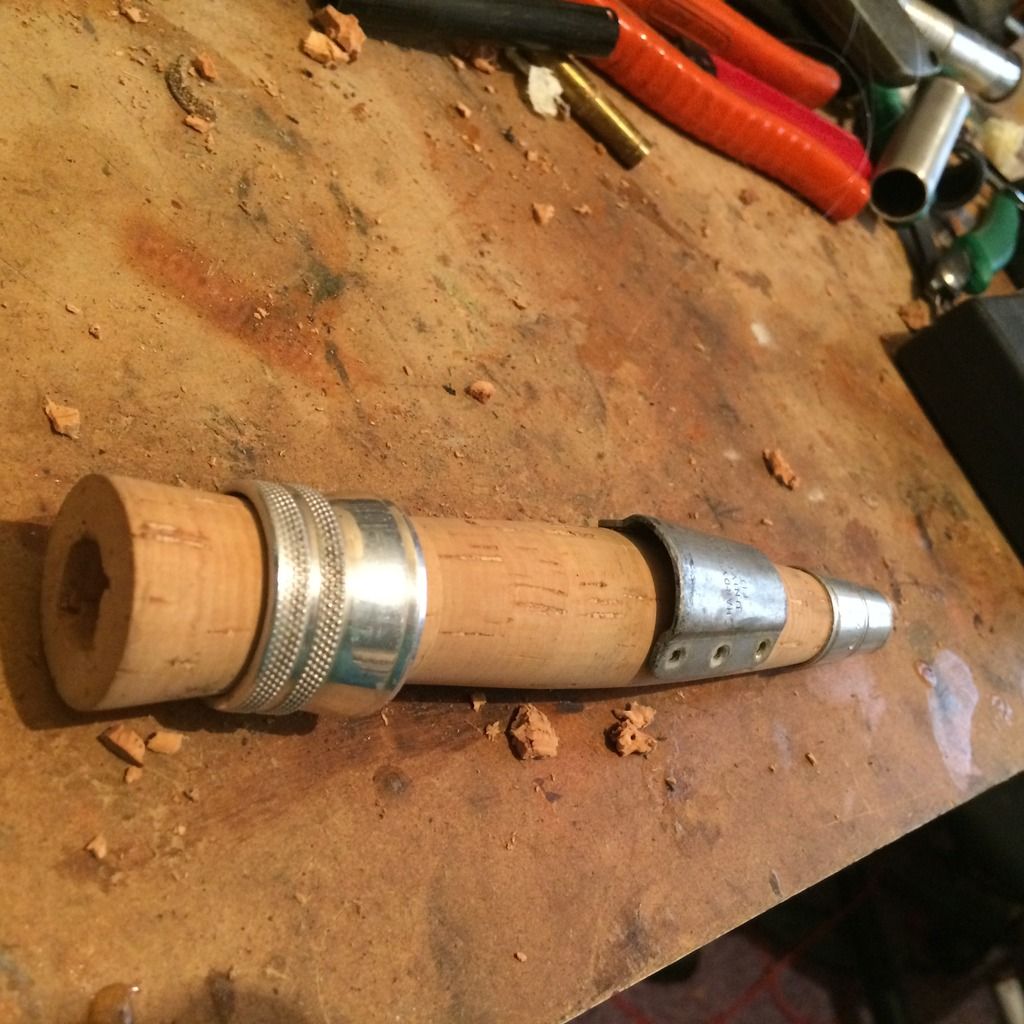 So I thought why not lets see if I can knock up a ultra ,ultra light rod just from scraps and spares (ok i'm tight and already spent too much on this project) this rod was purely for fun ,to get those little perch down the edge on the canals etc ,nothing fancy just a short slim rod that'll manage 1-3gr's or so ,light enough too hold & wave about all day ,slim enough to match modern Ds rods .sO I assembled some bits & bobs all used all probably not good enough for use on other projects/refurbs etc .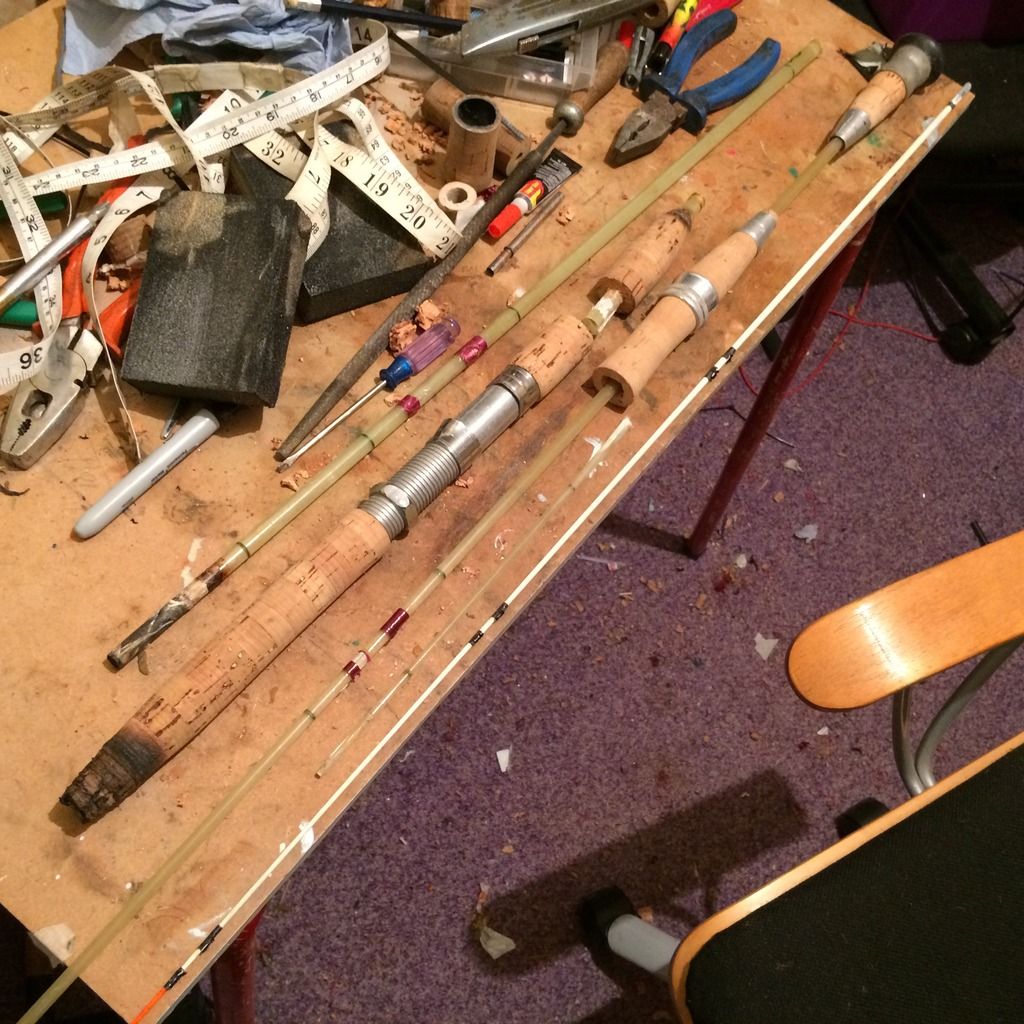 so I removed the collers and butt cap ,too good for this job they've gone too the spares draw .but I did have some not so nice ones I could replace them with and I had a fugly but cap I could throw in .
I did a bit of measuring and checking and if I cut the glass secion just right a quiver tip I had was close enough in taper I could use .so I trimmed the glass section down too size and tried the quiver up too compare and thought its close but not close enough .but all wasn't lost as this was part of a set of tips I brough a good few years ago ,and because it had been cut down at the base the dia wasn't quite there but I do still have some new ones left in the set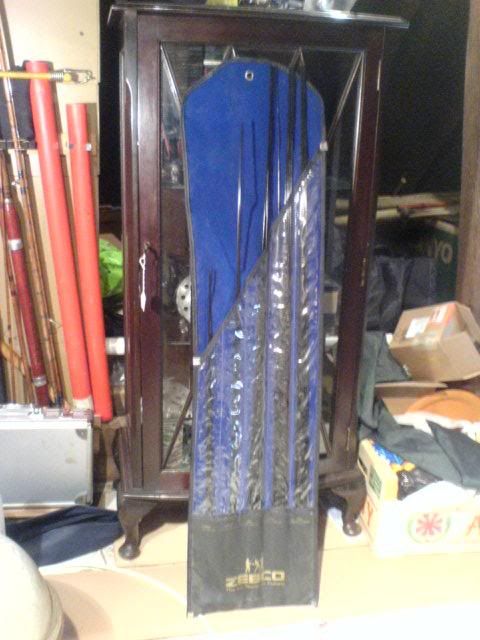 These was a trade set for shops ,40 odd donkey tops in glass & carbon ,the shorter ones are carbon for splicing into rods or making push in quiver tips ,the longer ones are glass in three dia/strengths all very soft sensitive tips and all 1m long .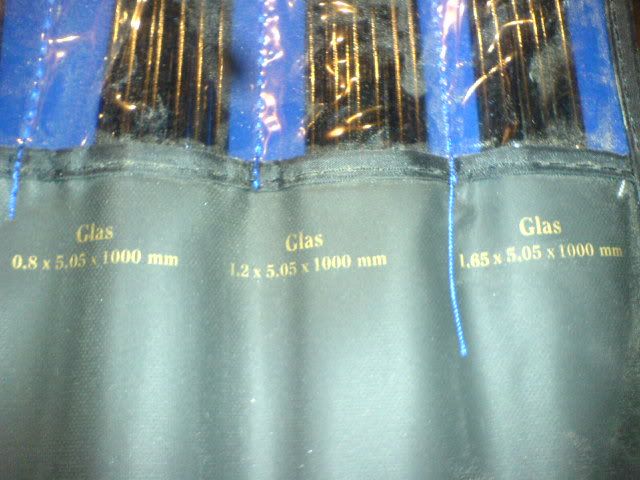 So I selected another one from the end pocket (down too my last four or five now) as at the base (uncut) are about right too match the other glass blank better ,that black paint will have too go though.
I try to be funny... but sometimes I merely look it! Steve
---
Eel
Posts: 2011
Joined: Tue Jan 03, 2012 11:49 am
Location: Ilkeston, Derbyshire
Contact:
well things not reall progressed that much since as I've been busy and had a cold so didn't feel like doing much ,but I've a plan I have a week of work soon so all three rods will hopefully get their rings whipped on then & finished ,but for now the medium is waiting for a set of rings ,the Ultra light has all its parts and I think I've some rings for it ,so that too will be ready for whipping ,the light rod was awaiting a suitable blank ,but that auction site has delivered again .(well the currier did) I managed too find a two piece 10ft fly rod with a second top ,i'll be using one whole top to make a light / soft float top for my 10ft roach rod project just right for tiddler bashing. the other top and butt sections will make a nice blank for the light drop shot rod for weights of around 3gr.

I've initially have elected to trim both sections 45" from the tip down ,the butt section will be fine ,but i'll have to move the ferrule forwards a couple of inches ,as I want too keep the fine tip (take material from here would stiffen the section and alter the action too much) luckily the taper is pretty flat so no real loss of taper it'll still match up nicely ,I've the reel seat and fore grip already built ,so just needs glueing into place and a rear grip making up ,it'll need to hide a ounce or so of lead for balance not sure if it'll have a cap yet ,i'll see as I go .
I try to be funny... but sometimes I merely look it! Steve
---
Eel
Posts: 2011
Joined: Tue Jan 03, 2012 11:49 am
Location: Ilkeston, Derbyshire
Contact:
well had my week off work ,and did manage too get somemore work done to the three rods ,not quite finished though as i'd liked .that's the joyds of making things up as you goes along .sometimes its two steps forwards and one step backwards .

the medium rod was mostly done just needed its rings fitting and whippings too do ,so I concentrated on the ultra lite & microlite rods hoping too bring them upto the same point of being .I set about the microlite glass rod first .....
I try to be funny... but sometimes I merely look it! Steve
---
Eel
Posts: 2011
Joined: Tue Jan 03, 2012 11:49 am
Location: Ilkeston, Derbyshire
Contact:
the micro lites progress
well I had two sections of solid glass rod that where a match in taper if not colour ,so I gently sanded down the paint on the tip ,finishing with fine wire wool so as to only remove the last traces of the black paint it came with .the bottom section just needed the old varnish flaking off .I did a dry fit too checked the balance point with the reel seat on the blank and wheel fitted ,I had too partially fit the fixed reel bracket by partly fitting its screws .I positioned the reel seat by holding it and moving it back along the blank until It was the distance of my forearm plus a fist from the end ,to allow for casting with two hands if needed .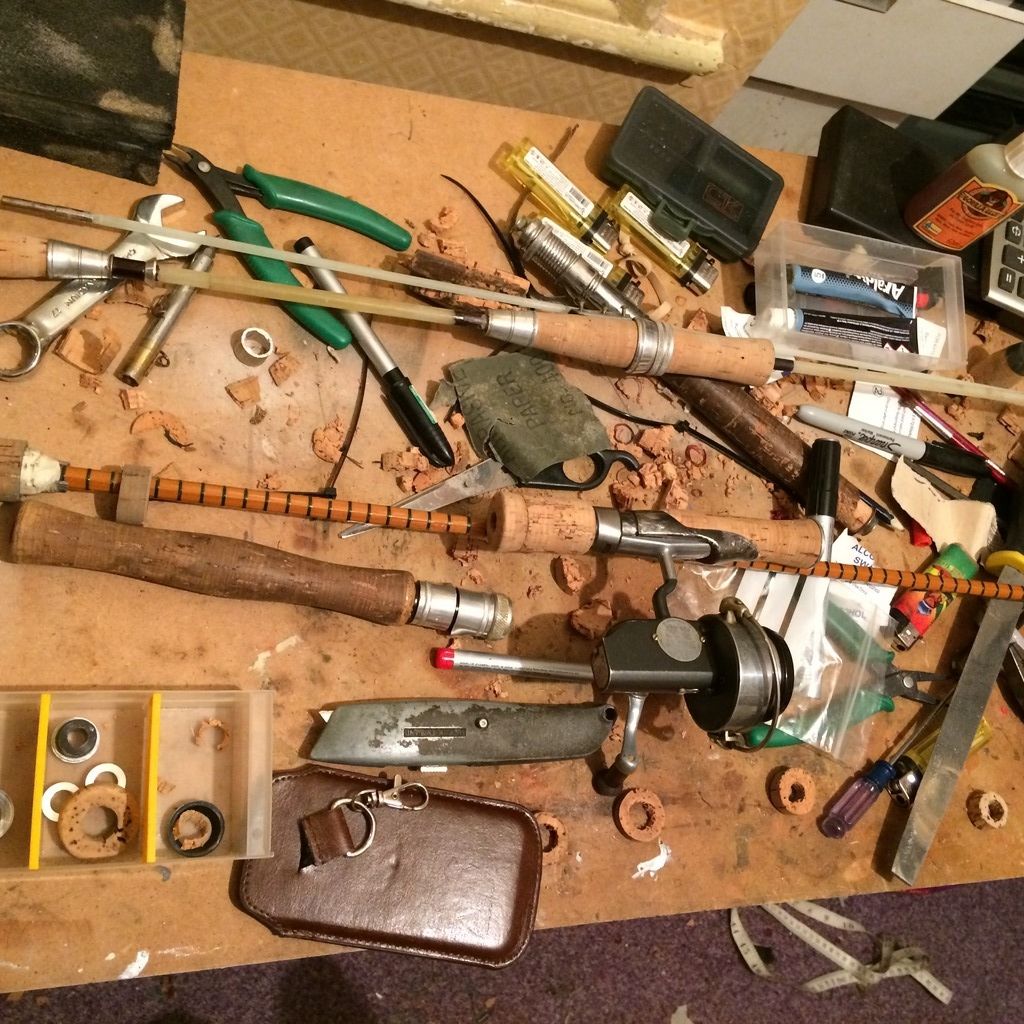 I checked the balance and added some lead too the end to achieve critical balance about the reels foot stems position .which I covered with a cork rear grip made from some odd bits of old handle ,the butt cap is from a old rod and a little scruffy (but i'll wire wool it later) with a seized button I added a couple of cork rings and a collar to finish it & too match the one on the reel seat albe it with a slight dint in it .the blank was looking white now it was cleaned ,so I gave it a coat of brownish tinted varnish ,its kind of cane coloured but translucent (not too light or dark ,to spook the fishes) ,I had originally planned on using a large salmon bracket seat ,but i'd given that away too a TFF member who'd need for it was greater than mine ,luckily I had a smaller one with hardy script on it .
I was now left with some screw fixing holes in the cork ,So I cut some cork pins from odd bits of cork crumbs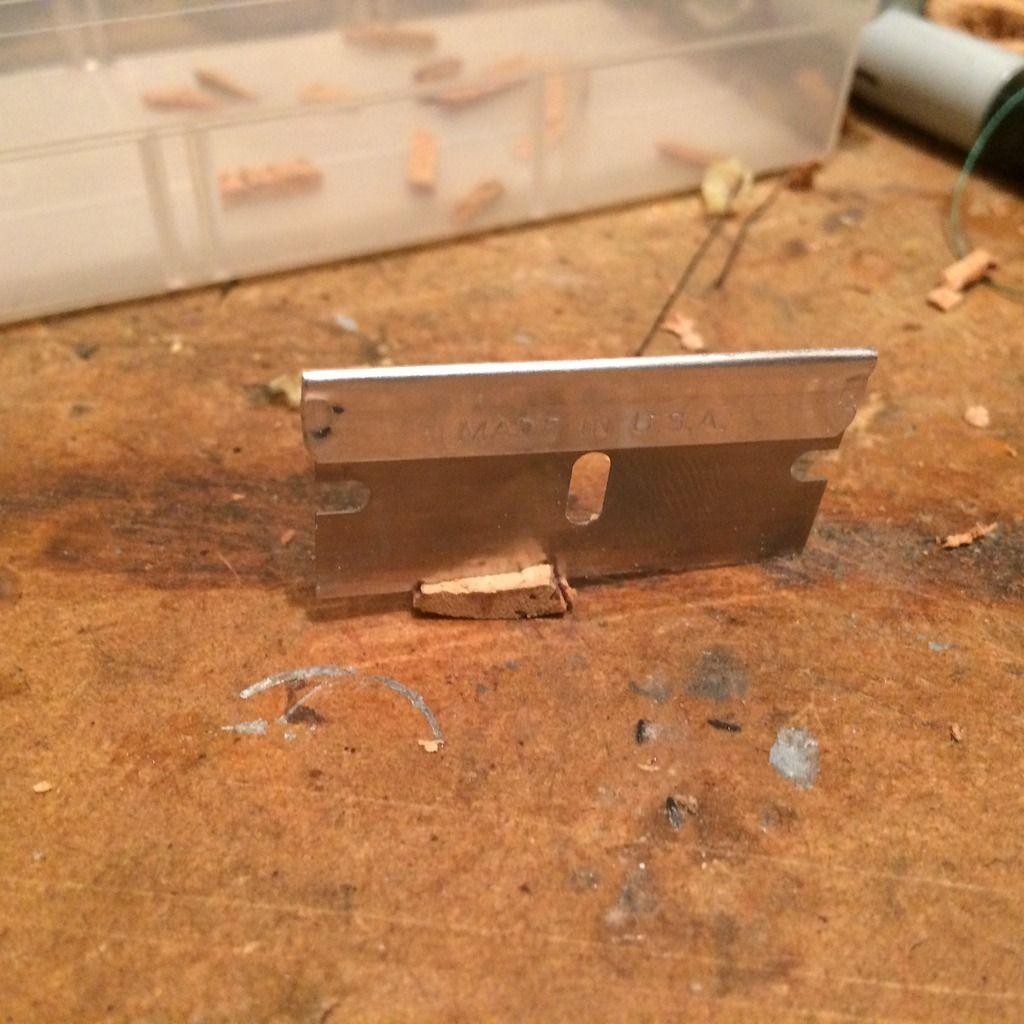 soon had enough too work with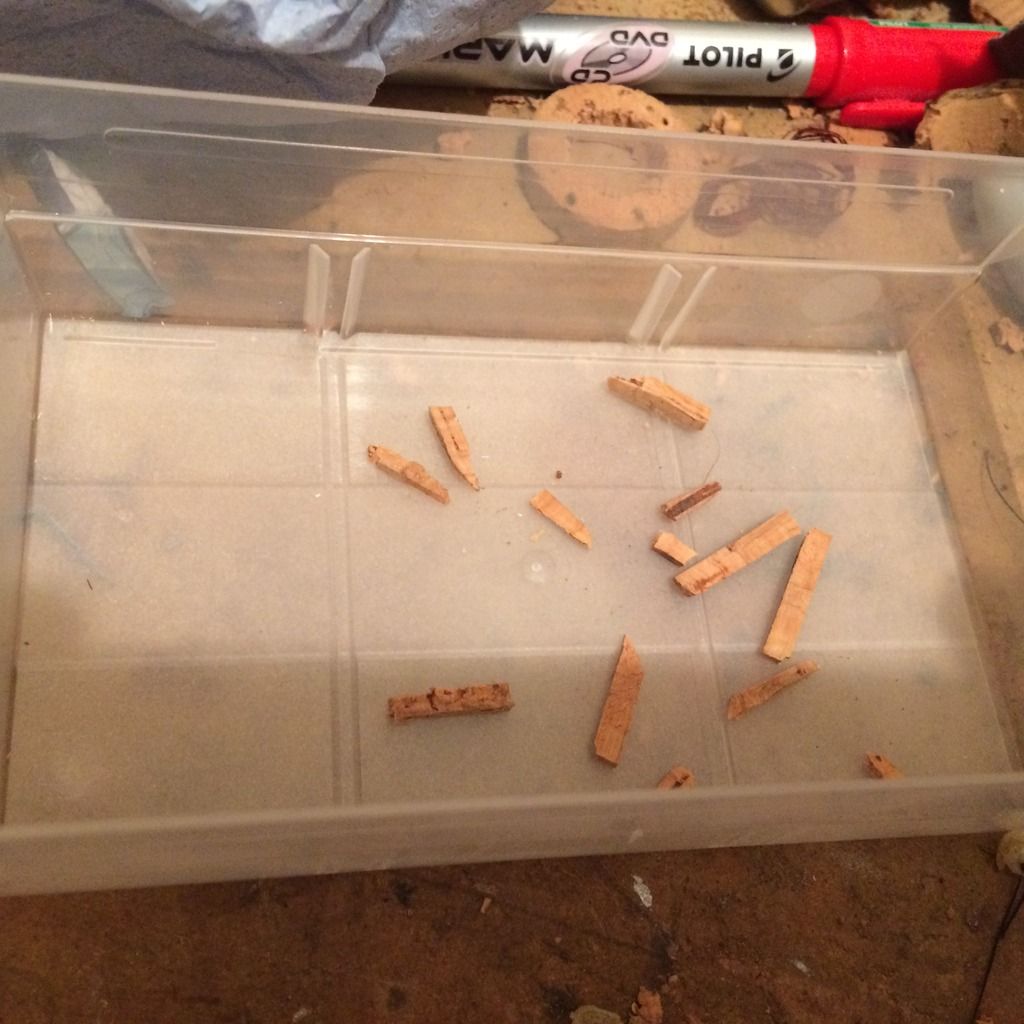 Using a drop of superglue in each hole ,then stuck a cork pin into them
Using my blade ,once dry I sliced off the excess level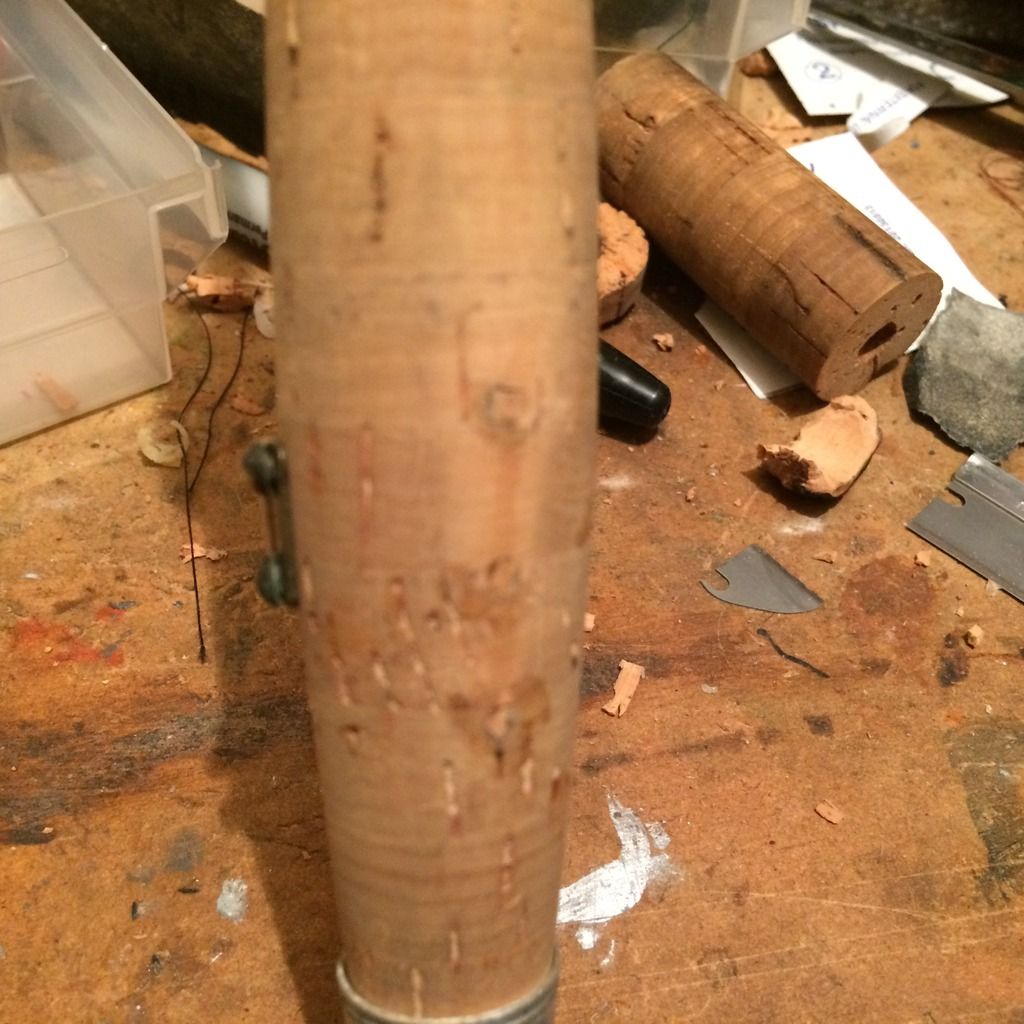 with the reel seat done and fitted next would be the rings ,I had a old set of lightweight single leg stand of rings that was more grey than silver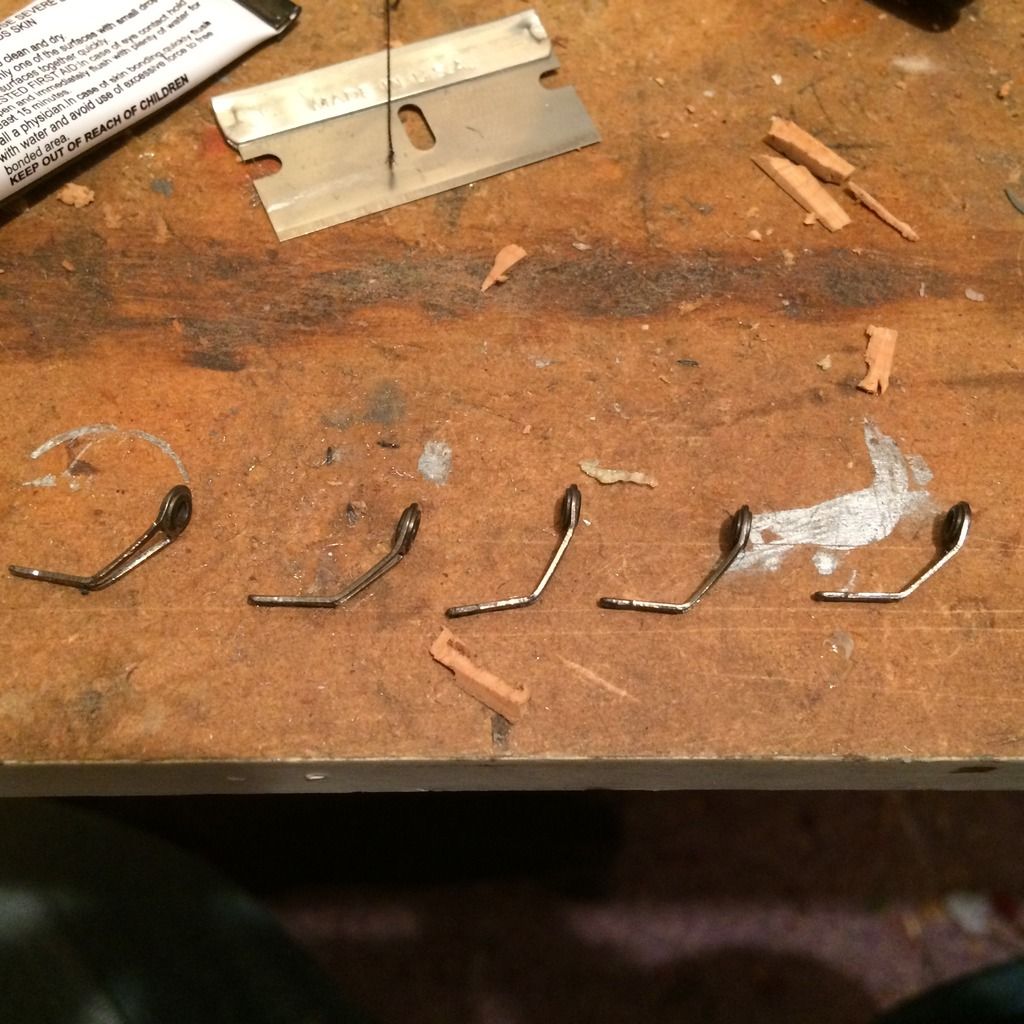 so Using scientology I decided too try the reverse ring theory out & I whipped on the butt ring .this I opted for a reverse setting because with spinning rods you can get a thing called line slap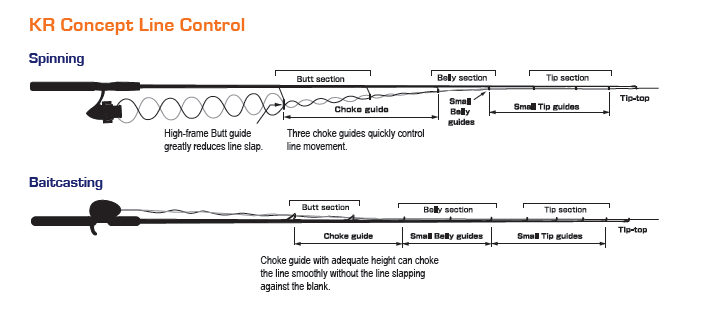 and a reversed ring alters the lines angle through the ring alleviating it whilst maintaining casting efficiency .and something I wanted too try out .
so I whipped it on so as too see how it looked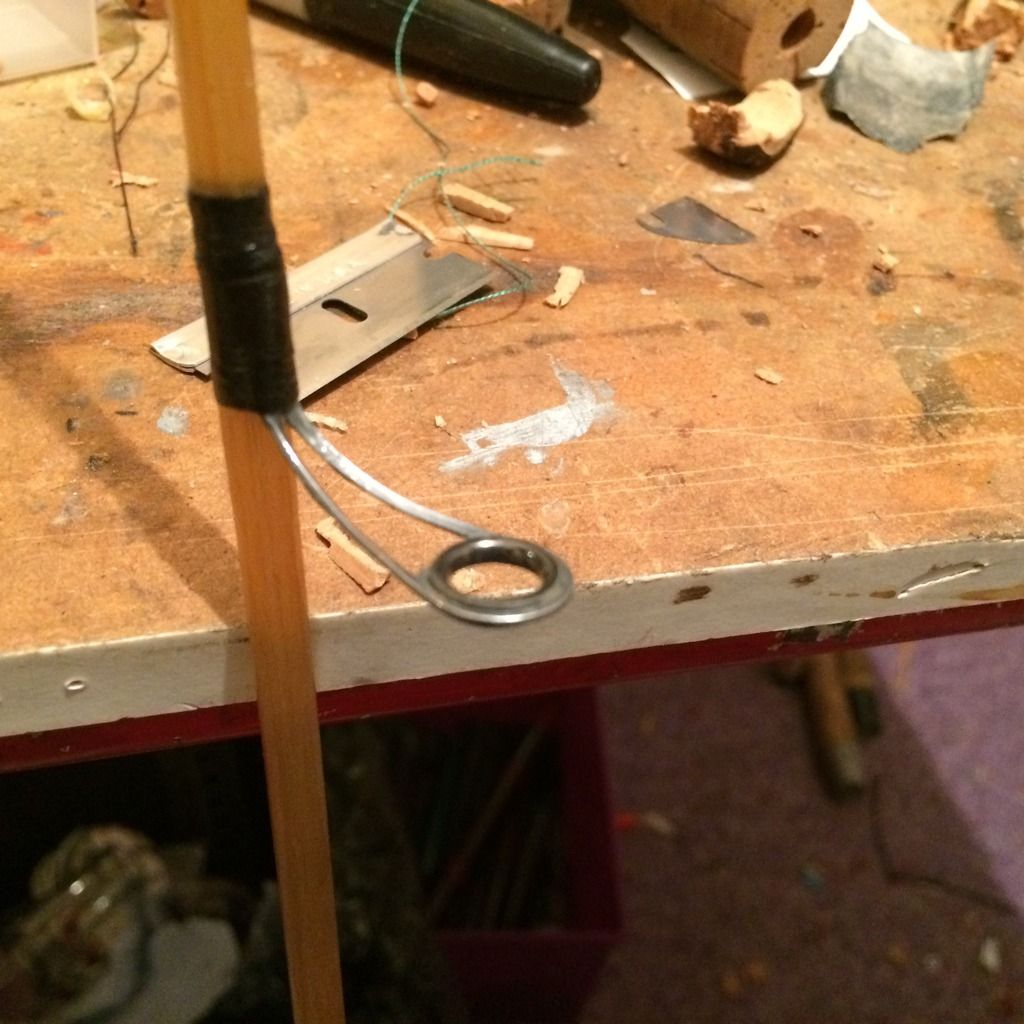 I taped the other rings on ,1 per foot too start with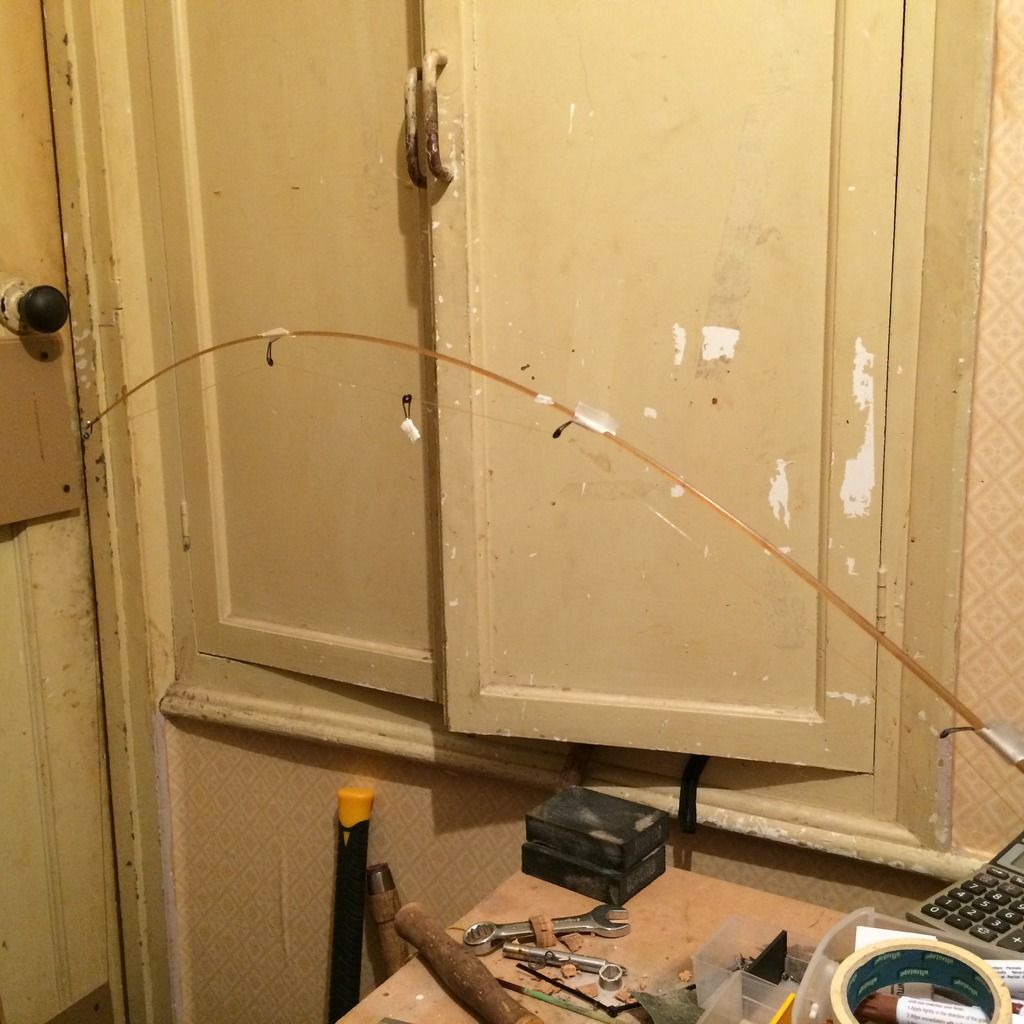 wasn't right too many angles ,I wanted the line too follow the curvature more ,so added a ring and moved them around a touch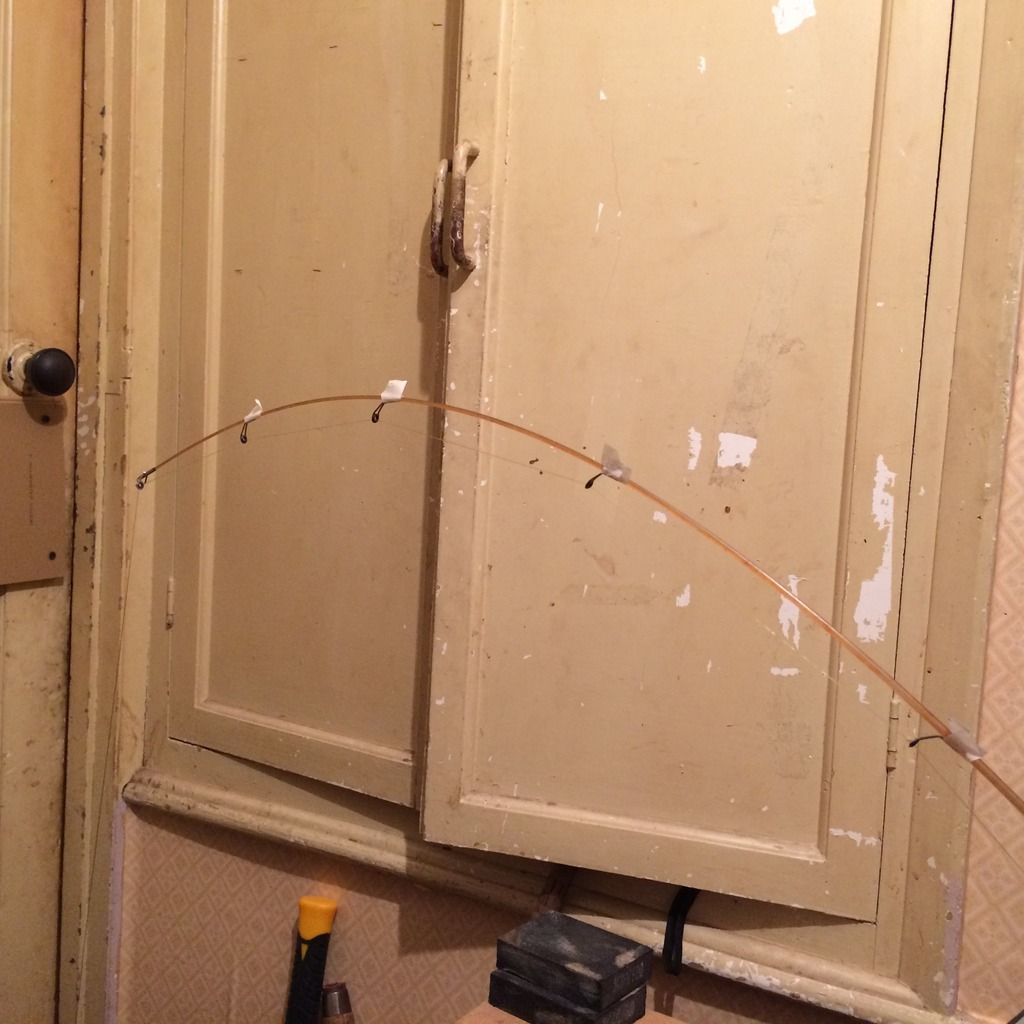 the arrangement looked good ,nice and sensitive to help transmit vibrations from the line too the rod ,but just didn't like their colouring shiny but dull coloured .wasn't really inkeeping with the traditional vibe of cane rods ,they just look better with silver chrome rings ...
plus i'd already fitted a chrome tip ring ,and it looked better for it .especially with the colouring of the rod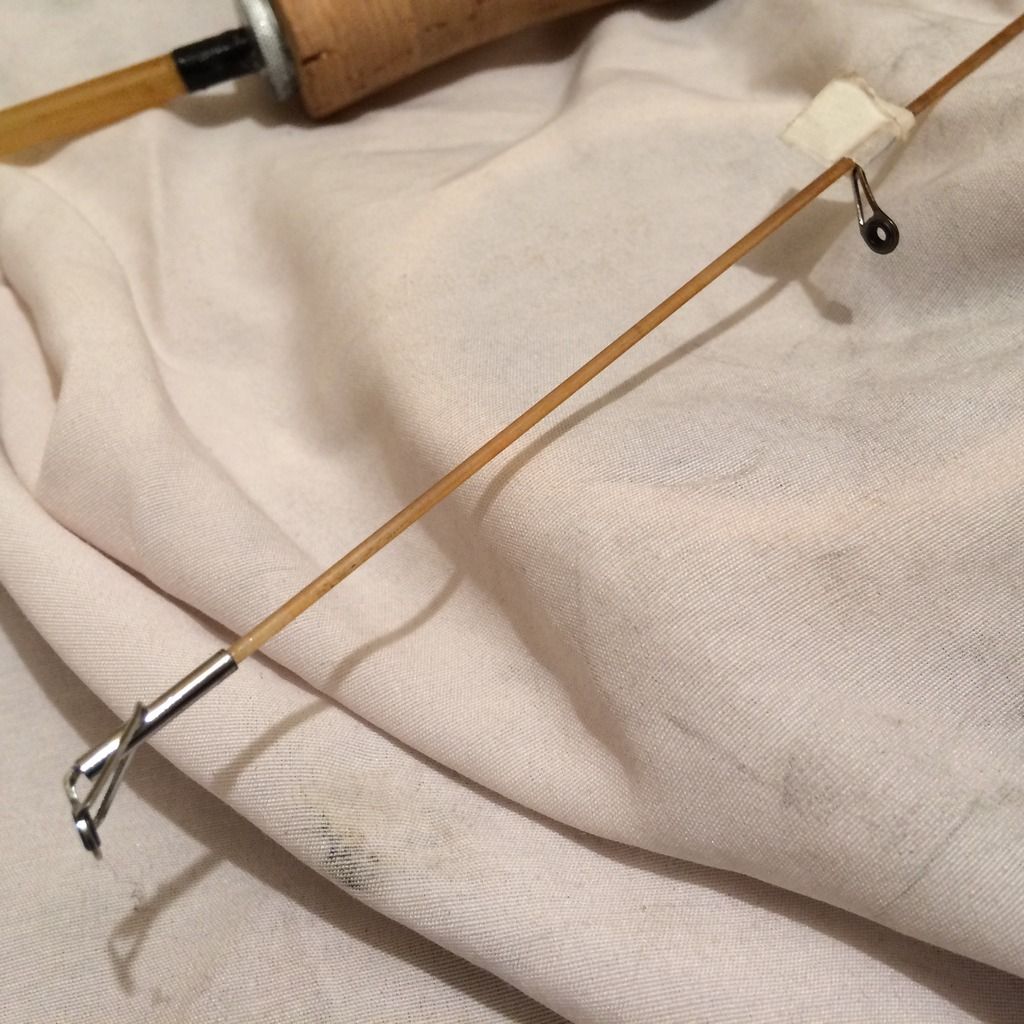 .
It was No good I was going too have too break my premise that this rod would cost me nothing ,built on a recycled theme ,but at the end of the day it has too look the part .So I'm going too order a set of ultra light rings ,that's single footed and suitable for drop shotting rods

Last edited by
Chavender
on Wed Nov 22, 2017 11:14 am, edited 1 time in total.
I try to be funny... but sometimes I merely look it! Steve
---
Eel
Posts: 2011
Joined: Tue Jan 03, 2012 11:49 am
Location: Ilkeston, Derbyshire
Contact:
The medium rod:
I had ordered a set of single footed rings for this rod ,they however didn't come as they was pictured ,instead of bright (silvered) finish ,they came as titanium finish ,nice and shiny in a dull way .might of been ok in a anti-flash sort of way .but they're quite heavy framed .but I decided too fit them all be it with tape too see how they looked.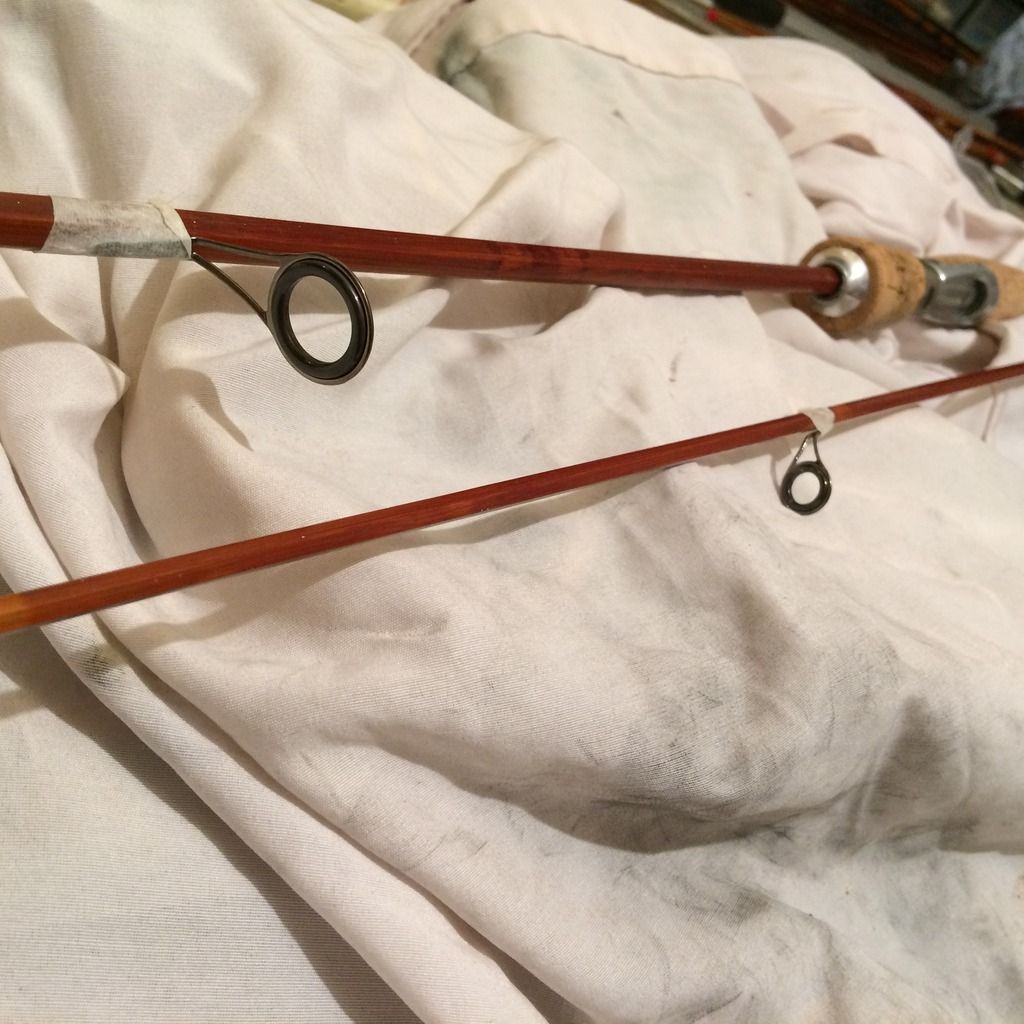 I don't think these type are going too be right for the job ,because the idea with drop shot rods is light rings that will transfer vibrations felt through the line as the weight drags along the bottom .having a single foot the light frame means they flex a little ,something the rings I have don't as the frames are too stiff / chunky even having the single foot .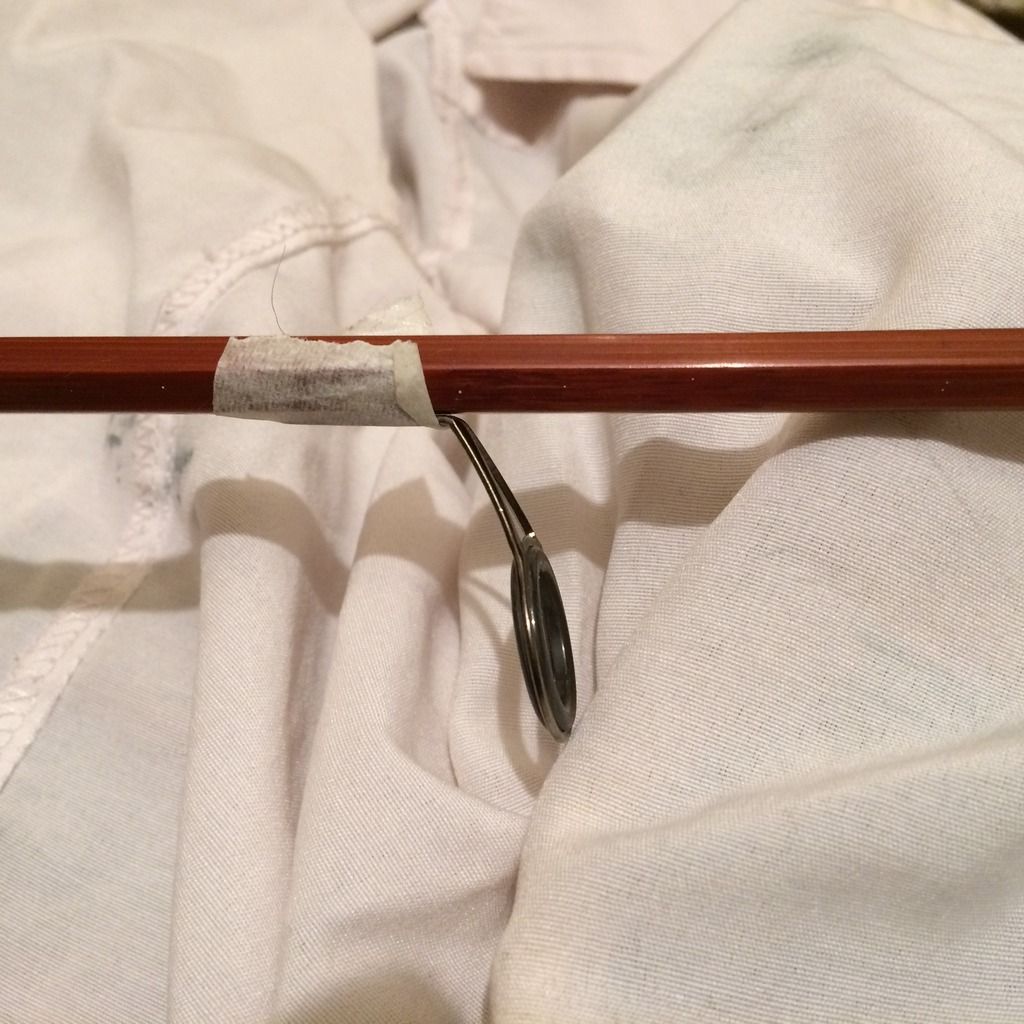 apart from the rings the rod is 90% complete the handle / grip is very nice the silver colour really makes the difference , makes it more retro and in keeping with cane .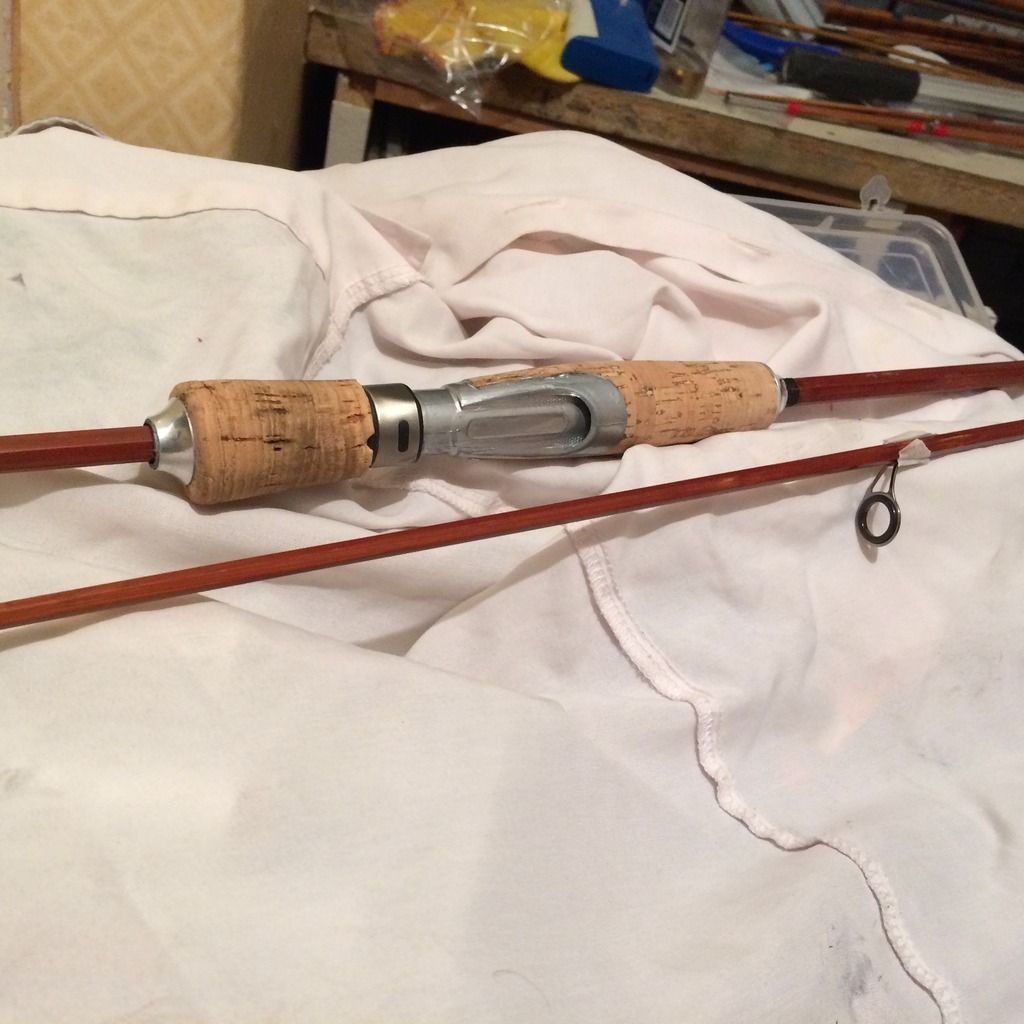 just a couple of whipped bands too add too the blank too tie it all together ,its not having inters though ,but for now its on hold .I've decided too go with another set of rings ,more suitable for a drop shot rod ,the same style rings i'll be using on the microlight rod.

luckily I have a suitable tip ring too fit it (it was meant for a different rod ,but i'll re-order one for that later)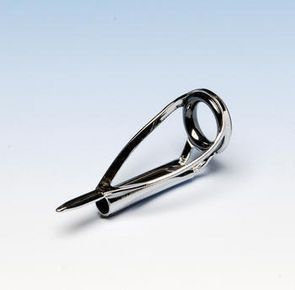 I've ordered the same sizes as the micro light plus a couple of larger rings in the range in Incremental sizes To get the correct layout of choke rings and then level rings too tip ,not great for casting but then drop shotting is about short range fishing virtually under the rod tip ,either stationary with a little jiggy jiggy action imparted by the angler .( I prefer the Morse Method** ) or via a slow retrieve + action .this ringing lay out allows for maximum sensitivity and for the vibrations too transfer better .The rods are counter balanced at the rear grip, so the reels foot /seat is the point of balance & ultimately the rods weight is neutralised (making it light too hold) and with a taught line too the drop shot weight any vibrations are transmitted too the bait and the tapping on the blank creates the vibrations and therefore the action of the bait .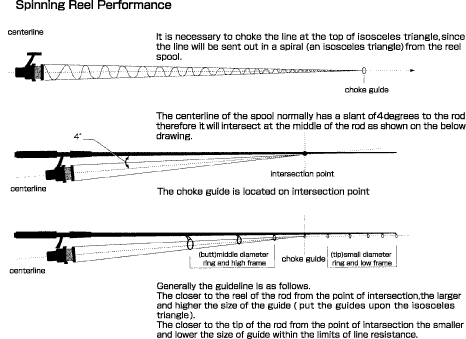 The Morse Method ,is where you hold the rod with your index finger resting on the top of the blank ,and using it too tap out ,in Morse code

.... . .-. . / ..-. .. ... .... --.. / ..-. .. ... .... --.. / / giving the correct movement of the bait to attract the fish .
I try to be funny... but sometimes I merely look it! Steve
---
Eel
Posts: 2011
Joined: Tue Jan 03, 2012 11:49 am
Location: Ilkeston, Derbyshire
Contact:
The ultra light rod:
After ordering a special silver reel seat (all the way from Taiwan) it came too late too be used on the medium rod ,So when it did arrive I made it up anyway .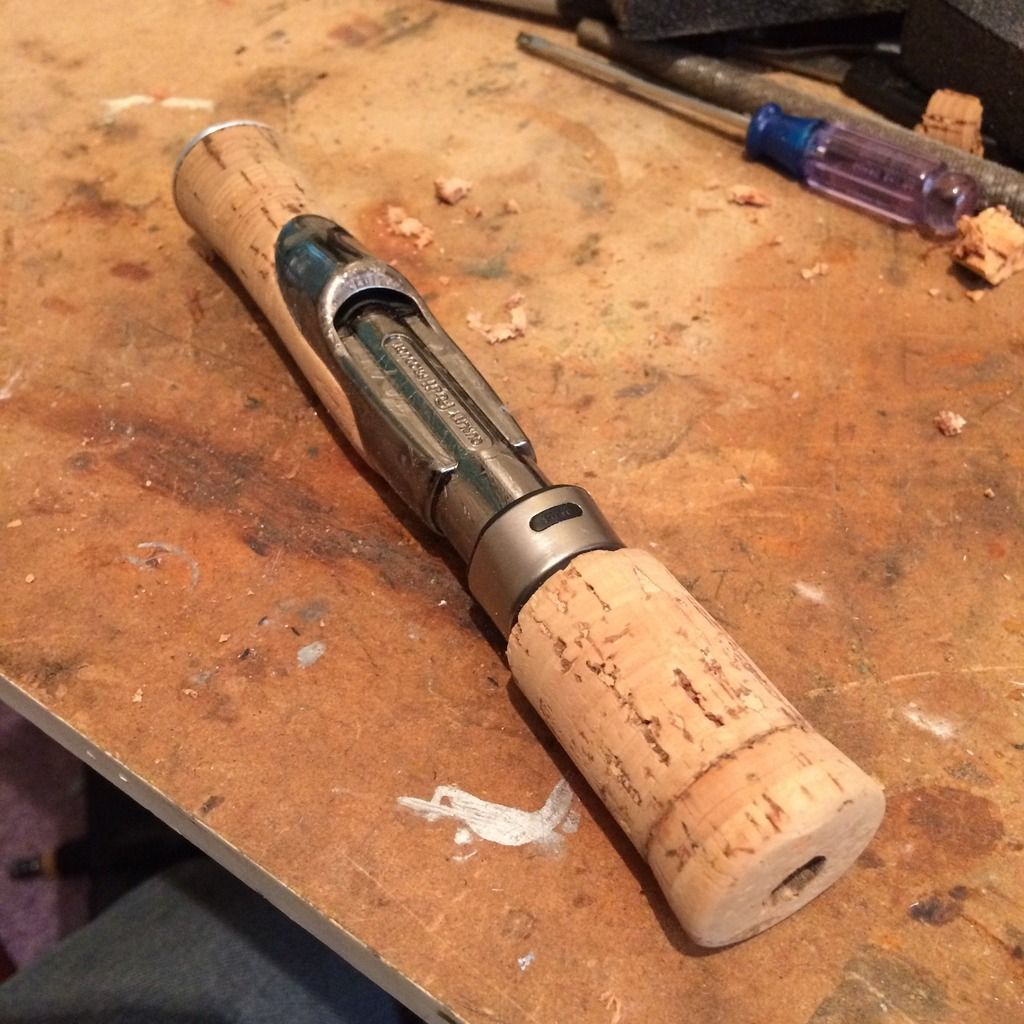 all it need was a blank & things to make it into a rod ,so I kept a eye out for a suitable cane blank ,I knew it would need too be flexible ( springy ) to operate correctly and I wanted it too be lighter in action than the medium rod but not as soft as the microlight rod and it needed too be about the same length as the medium rod (aprox~ 7ft) as its a length i'm comfortable with .
I came across a 10ft #6 fly rod with a full length spare top ,even though its the same length and line rating as the rod I used for the medium rod .the rods are quite different .the first being a sharpes scottie impregnated rod is quite a bit stiffer ( actually Avonesque ) in action than this second rod (non impregnated) made by Allcocks the "Leander" which is also a slimmer blank closer to a drop shot carbon taper .
a nice rod ,with rings wrapped in green and lots 'n' lots of inter whippings ,I'll try to incorporate into the drop shot rod ,partly because its a nice look fot it and it means I won't have too do them....
Allcocks "Leander''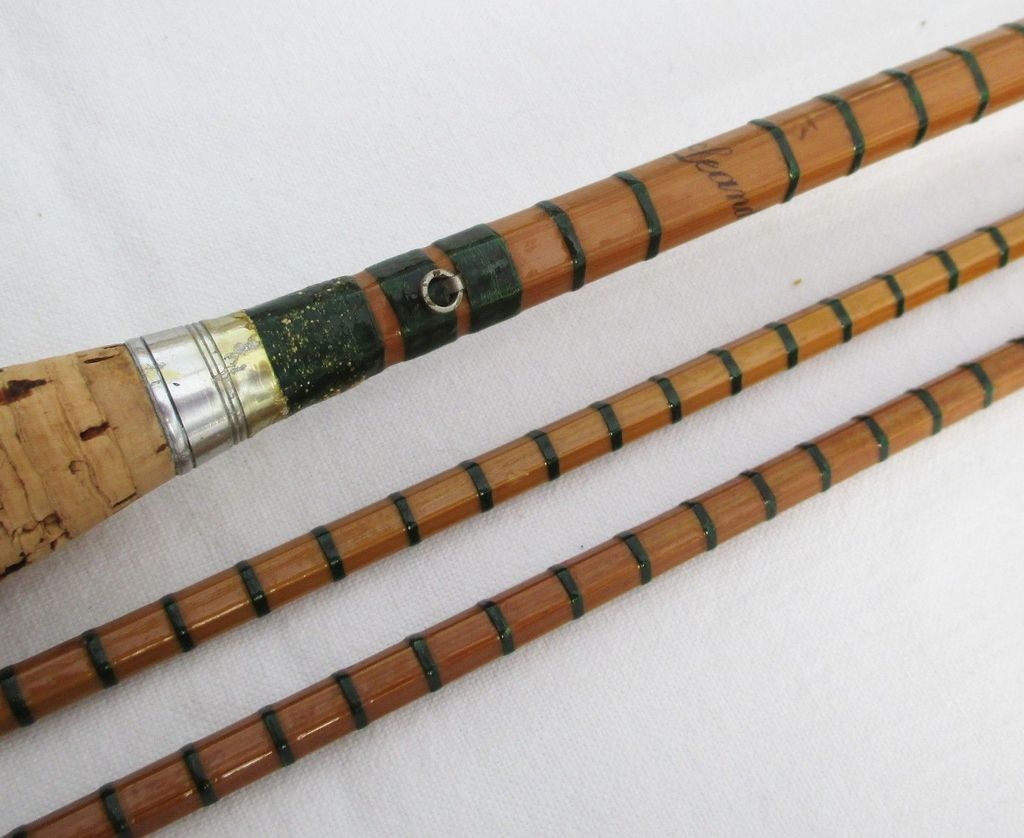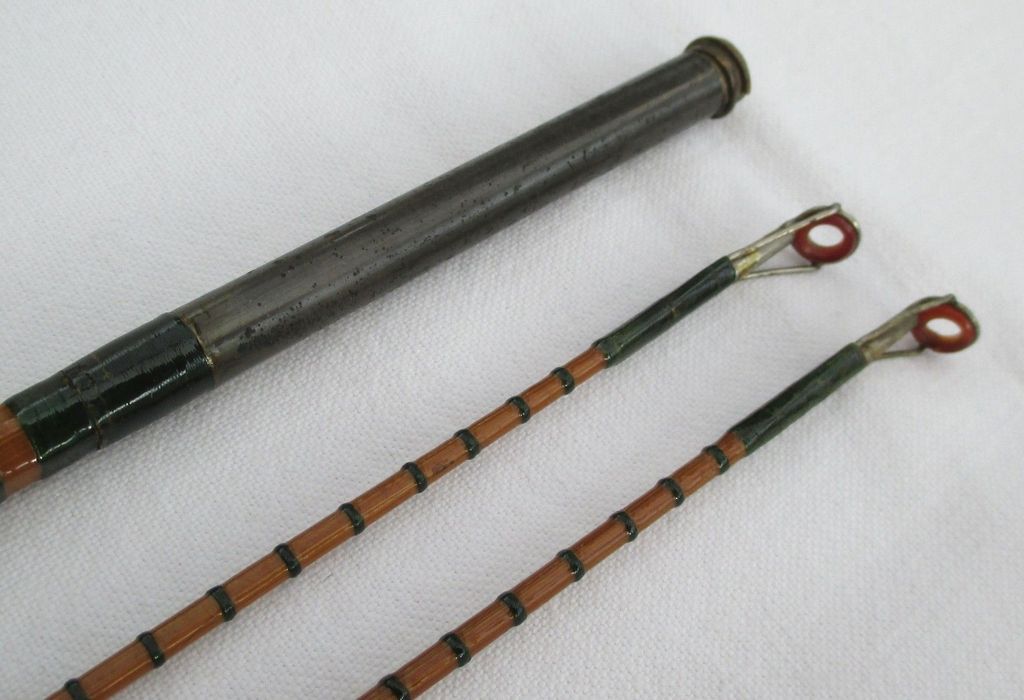 I've cut it down the same way I did the medium ,too the same lengths etc so when finished will be 7ft 2" the same but different ,as the action is lighter .and will also be critically balanced .I also had some green thread that's pretty close ( bonus
) ,I intend too blend the rings whippings seamlessly with its intermediates and add any extra ones for minimum effort & maximum effect .I pre whipped area's fore and aft where the reel seat / grip will be fixed at.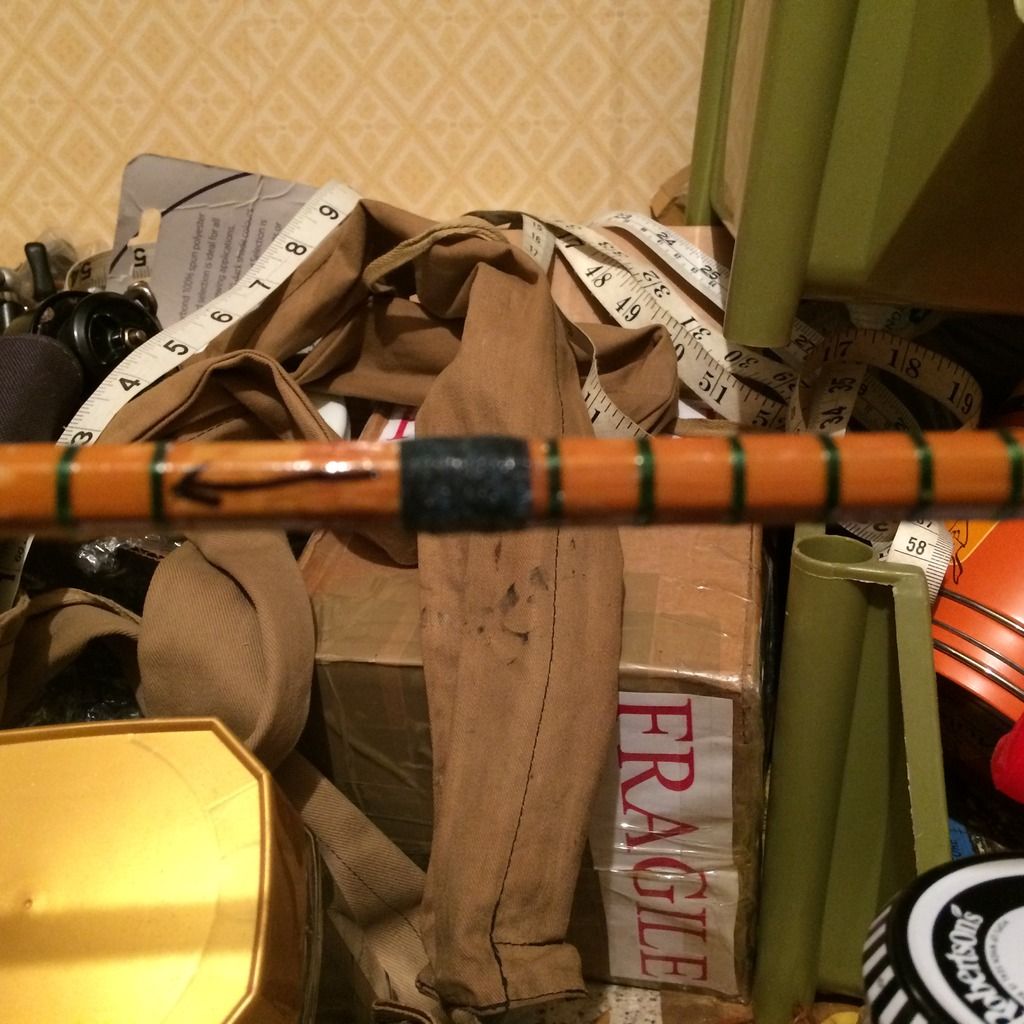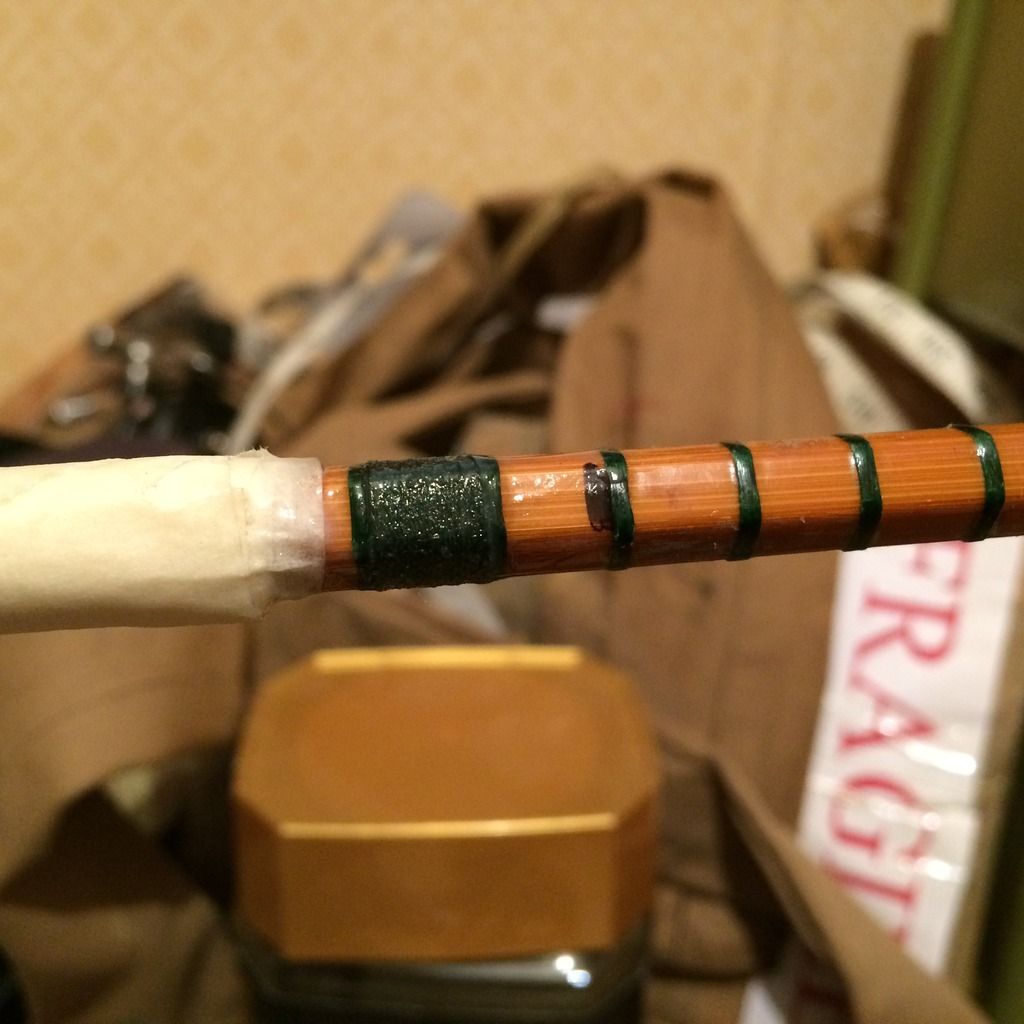 then built the arbers for the reel seat & glued it into place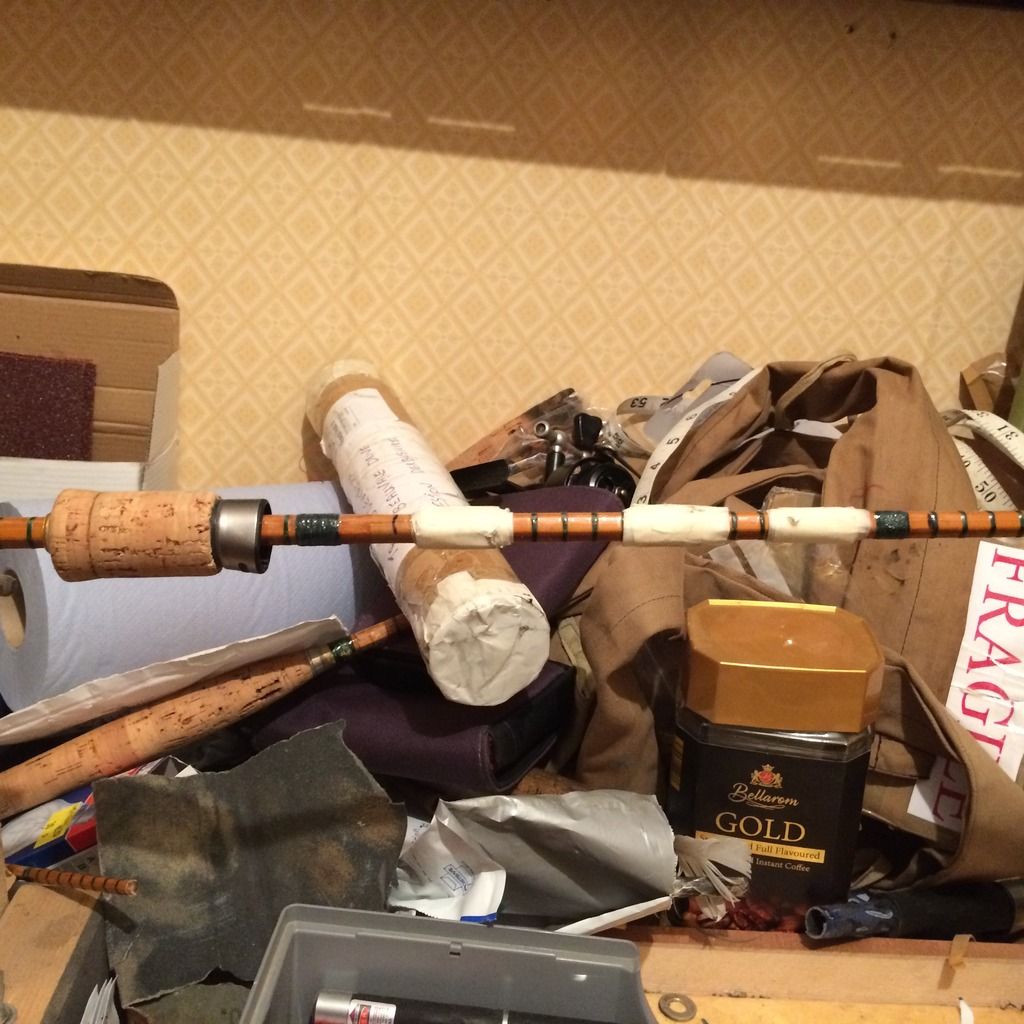 added a couple of collers and built up a rear grip over the lead counter balance weight.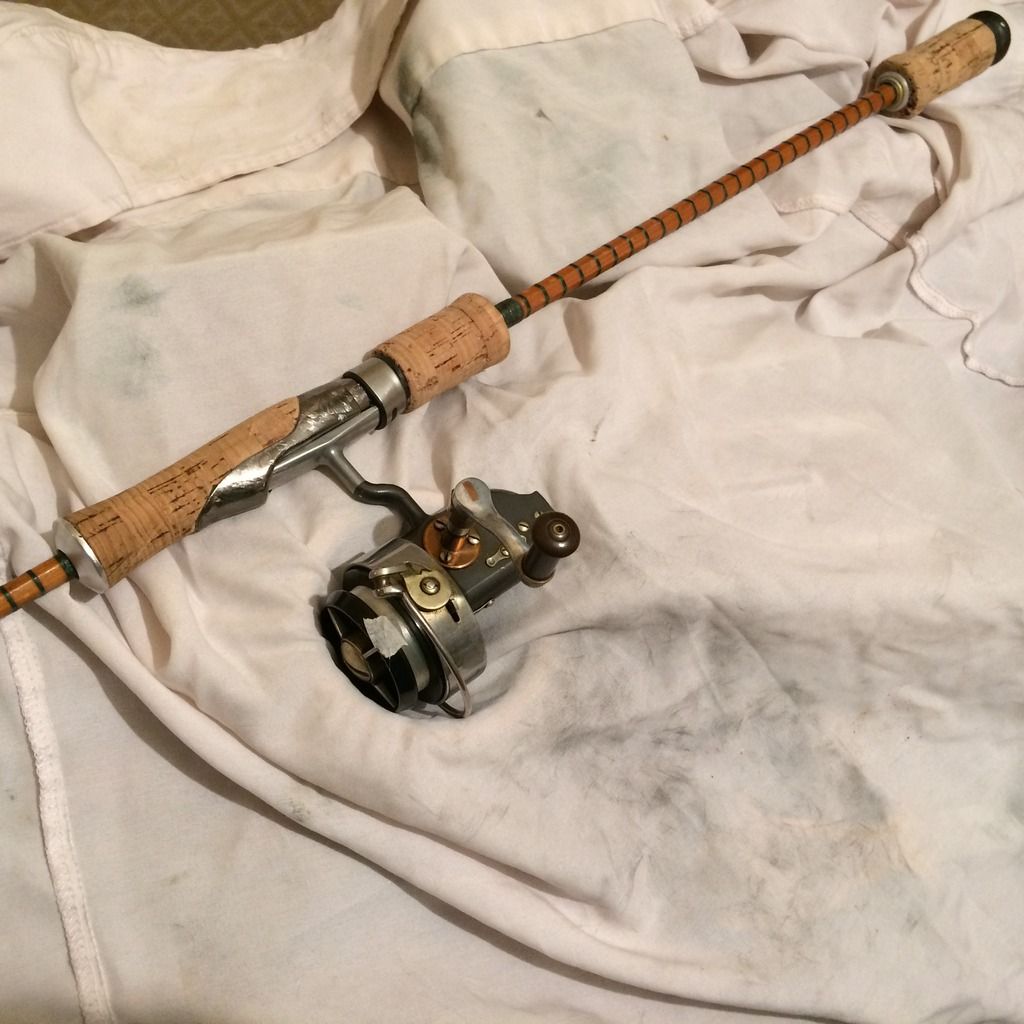 the extra whippings are there too transition from seat too blank .the front whipping has too be long enough too allow for the screwing & unscrewing of the screw down shroud of the reel seat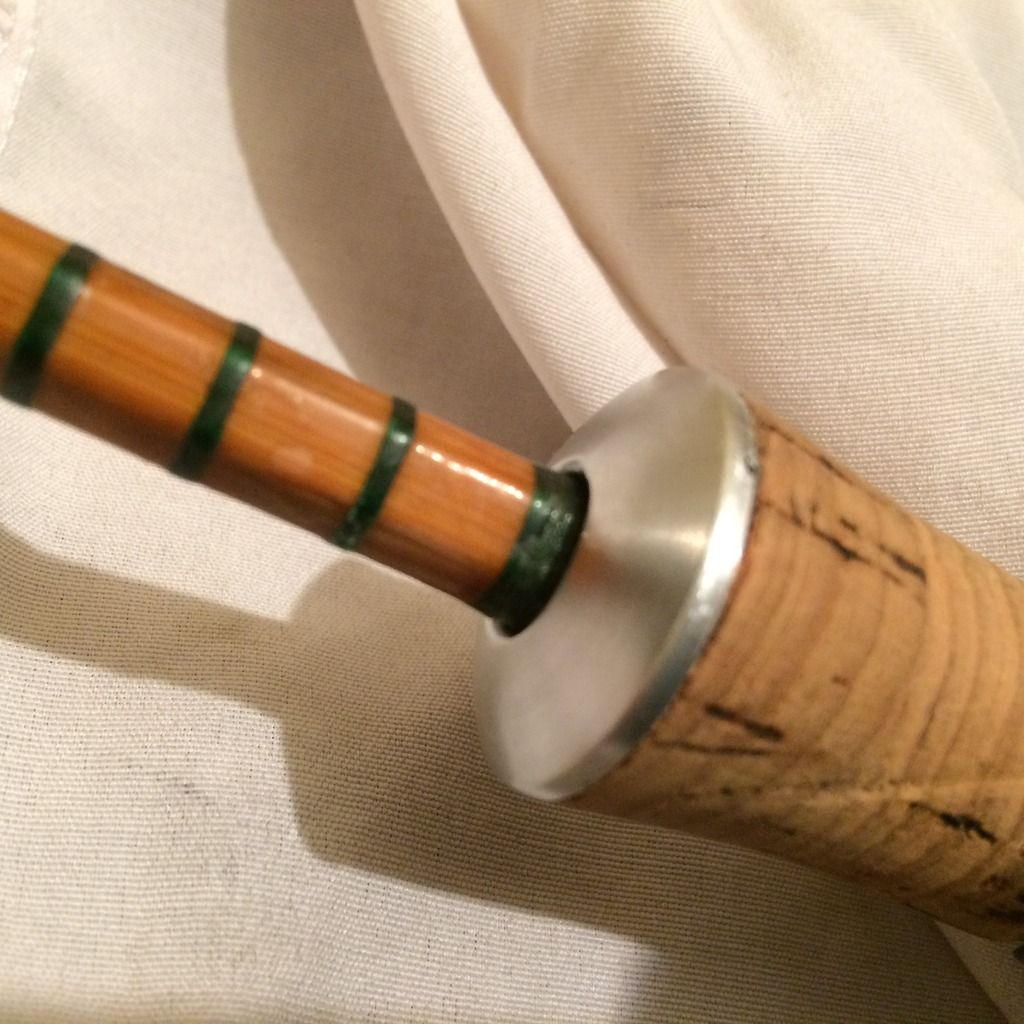 the rear whipping had too match that of the rear grip (also pre-whipped before coller fitted)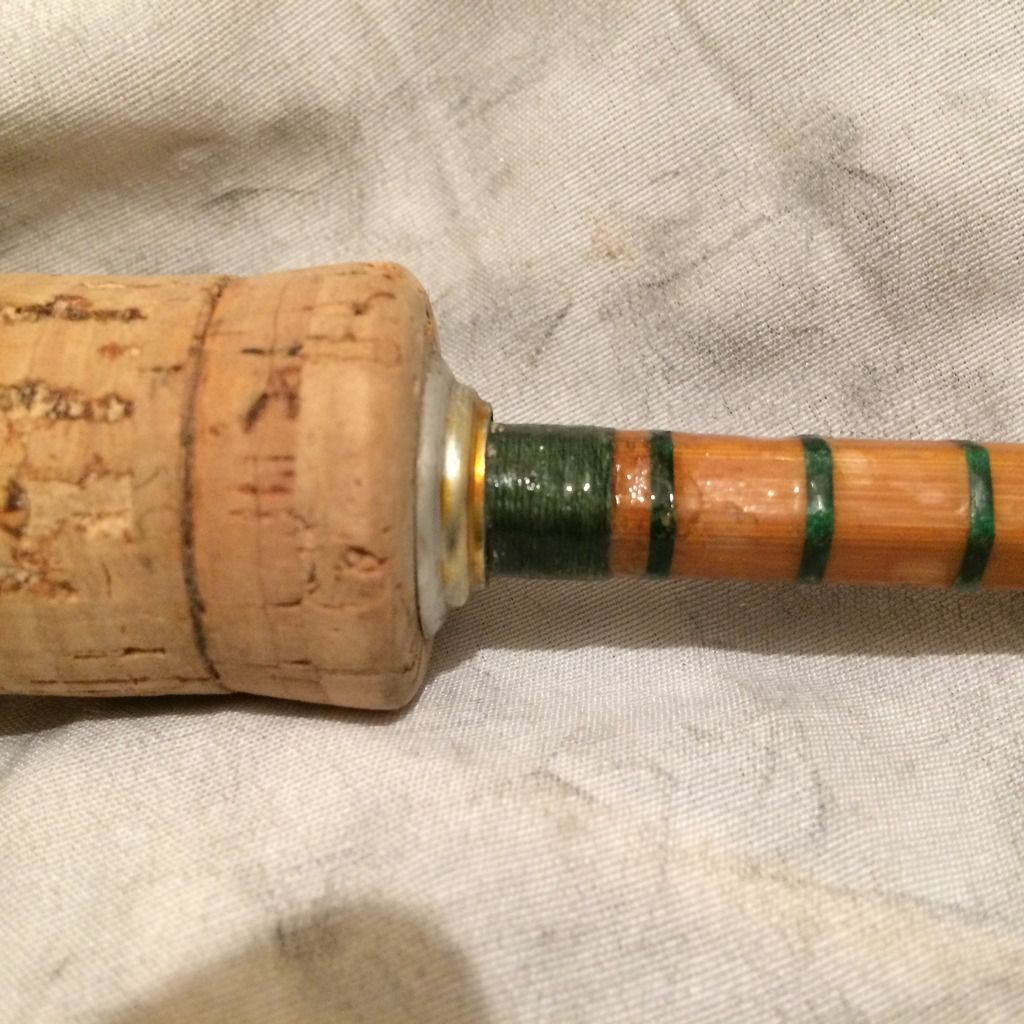 the choice of rings was always going too be a set of these

So as I was ordering these I duplicated the number of rings and their sizes so i'll have enough to duplicate the ringing pattern onto all three rods ,The two 7ft rods having extra couple of bigger rings but from the third ring too the tip all three rods will be identical .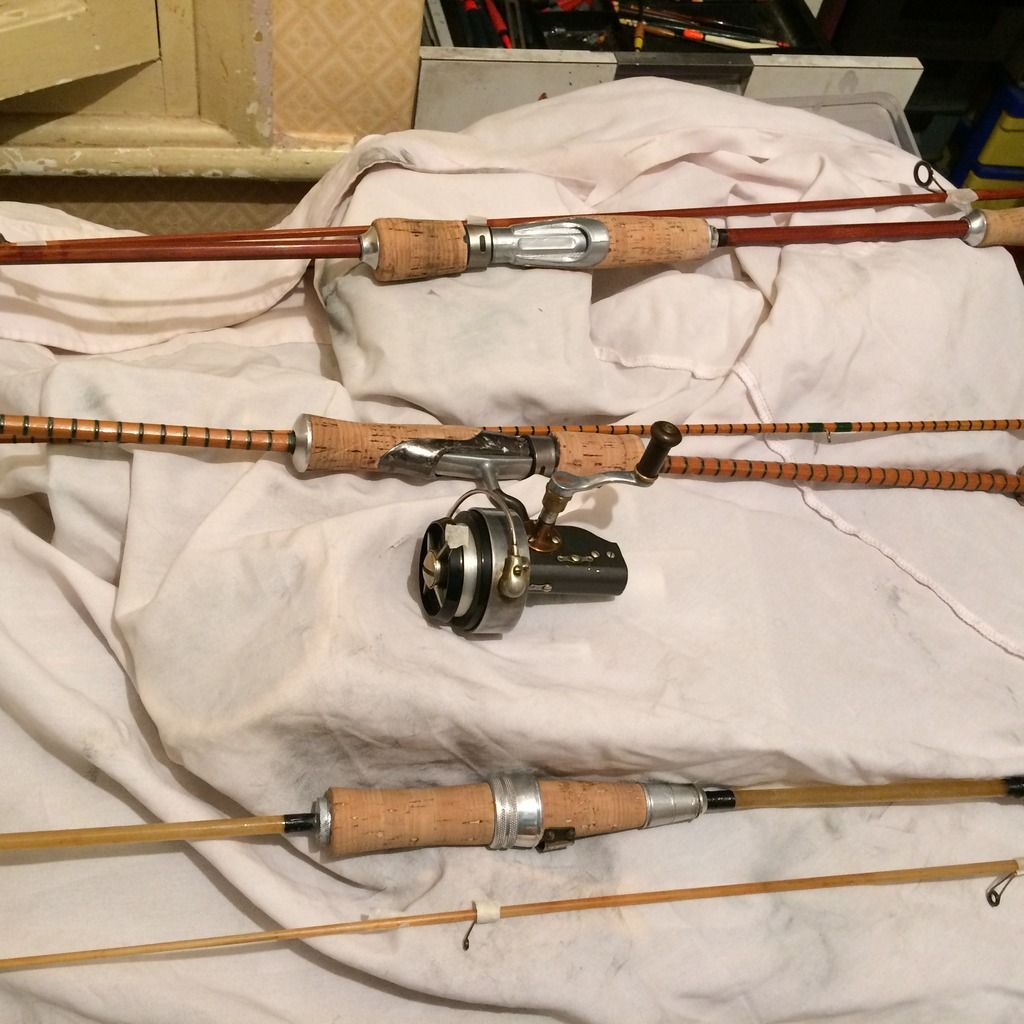 The 6ft mirolite & ultra lite both will get new tip rings too match that of the medium rods style.
microlite tip :
so H&H has done well from me this week ,but at least I qualified for free delivery ,every cloud and all that.....
I try to be funny... but sometimes I merely look it! Steve
---
Who is online
Users browsing this forum: No registered users and 4 guests