Been deliberating which project too do next ,my fred taylor style rod project ,i'm not sure if i'm doing that at the moment it gives me a headache just thinking about ,thinking about it ,so i'll be doing this project instead ,too build a wizard style rod ......
Spec: The 'Mage Minor' (wizard style) float rod .
• it will be a 11ft rod (although I fancied a 12ft version ,maybe at a later date .
• 3 piece, wholecane (inverted?) butt. Split cane middle & top.
• old bronzed metalware.butt cap ,coller/winding check & reel bands (salvaged) to keep a vintage look
• Lined tip & butt rings similar to the Allcocks Wizard.
• long handle 21½".rebuilt with new cork rings or sleave's (from Guides& blasnks)
• black whipping scheme.
I've got a suitable whole cane butt & mid section from a scrap rod (using the old but or the mid section turned so its a reversed taper section) it was a old match style rod ,I got a few years ago in a bundle of old rods ,but & mid section whole cane and would probably had a whole cane/slpit cane spliced tip or a greenheart tip (it came without the tip section) ,well the handles cork is in poor condition and i'd already removed the brassware for another project. fortunately the wholecane sections are sound ,the ferrule knocks but that's not a problem as it won't be used ,nor will its rusty rings .I did have a another rod too go with this one a no name float rod with a pale colouring that matched intending too use the two top sections and the whole cane rods butt section ,but me being me ended up using this second rod on another project

I was looking for another donor for the match mid & tip sections ,to go with the wholecane rods butt .In the meantime I was going too start a different project rod a three piece rod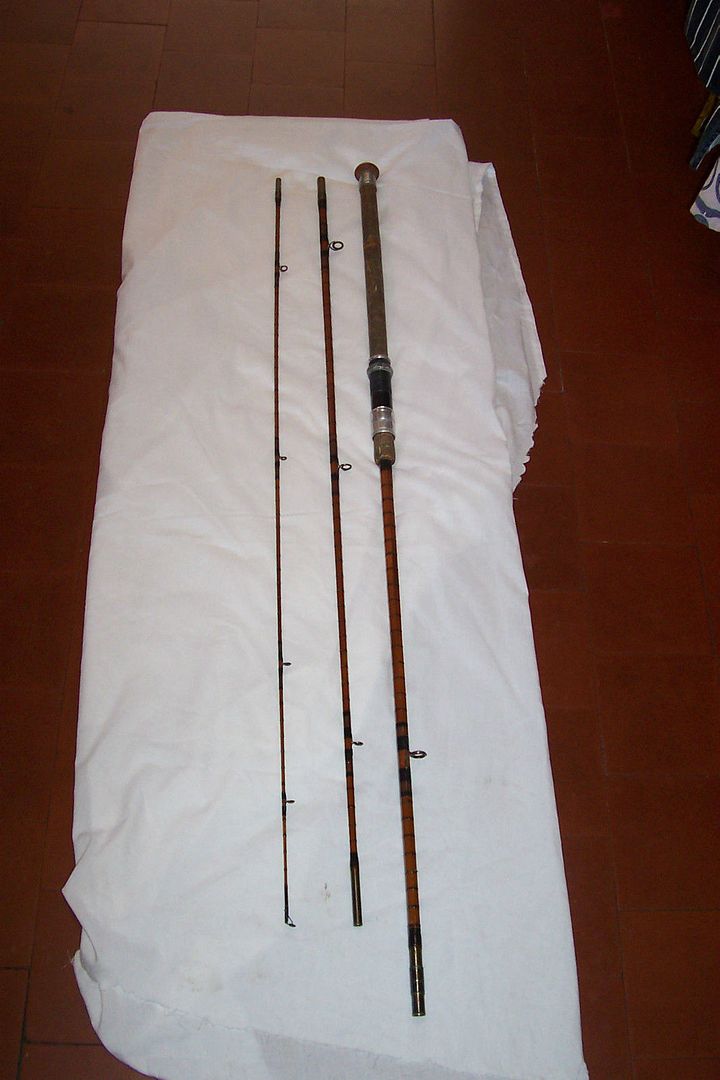 i'd brought it cheap off e-bay ( £12+p&p ) to do a quick rewhip on ,as it just needed the modernish ,ok 80's black bridge lined rings .replacing. it was advertised as a 11ft rod with loose ferrules and a slight set too the tip .but otherwise in good condition ,no brand/maker labels but did have a lockslide winch fitting .and nice whipping pattern .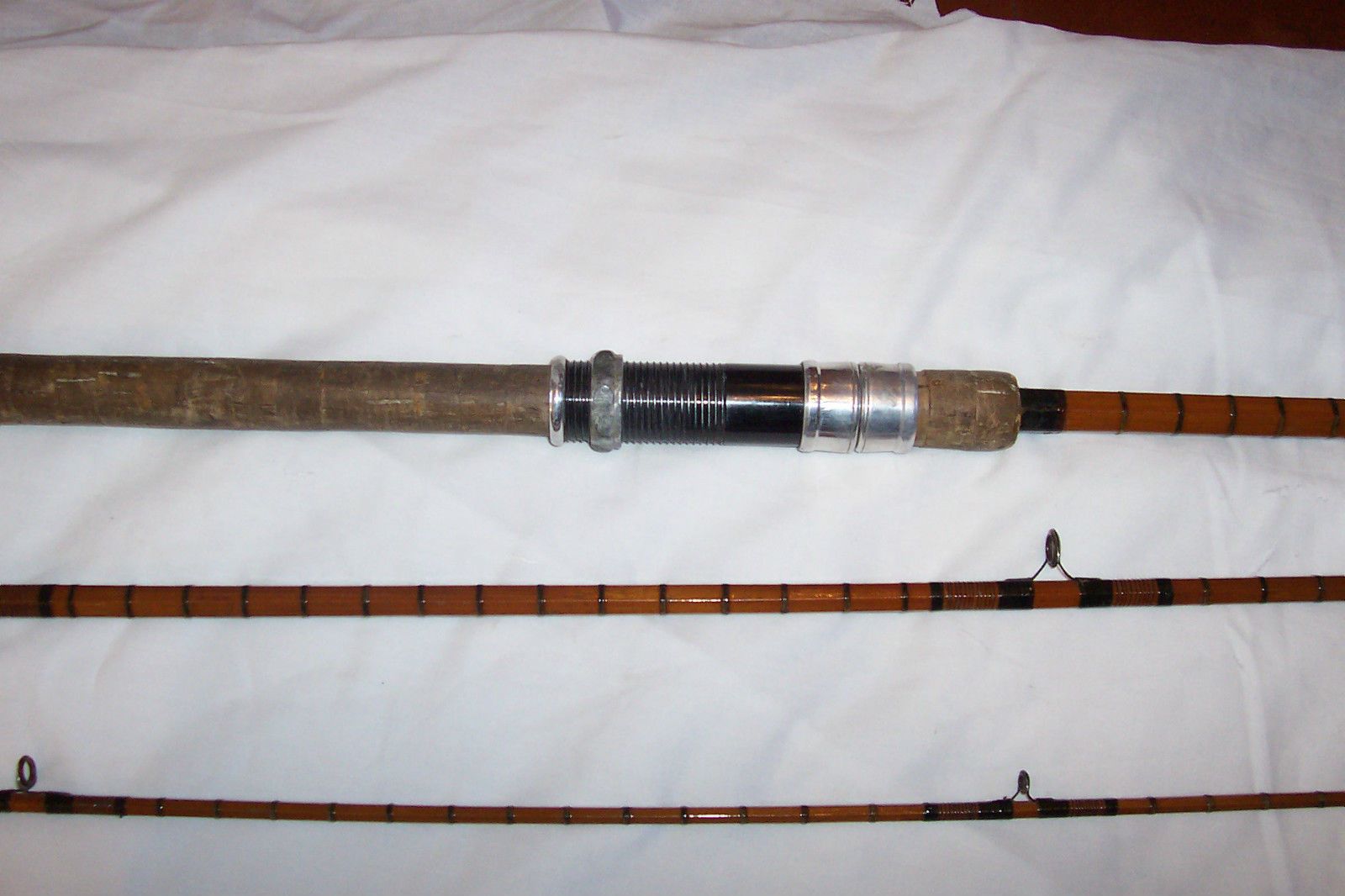 i hadn't really given this a good look since it arrived (my bad) its had a cursory look over then put aside for a later day ,well about a year later I've worked my way down the to do pile and its time had come. I took it out its bag and gave it a proper look over and although its ferrules where loose ,the set wasn't that bad ,nothing a little warmth couldn't handle .the lockslide fitting looked good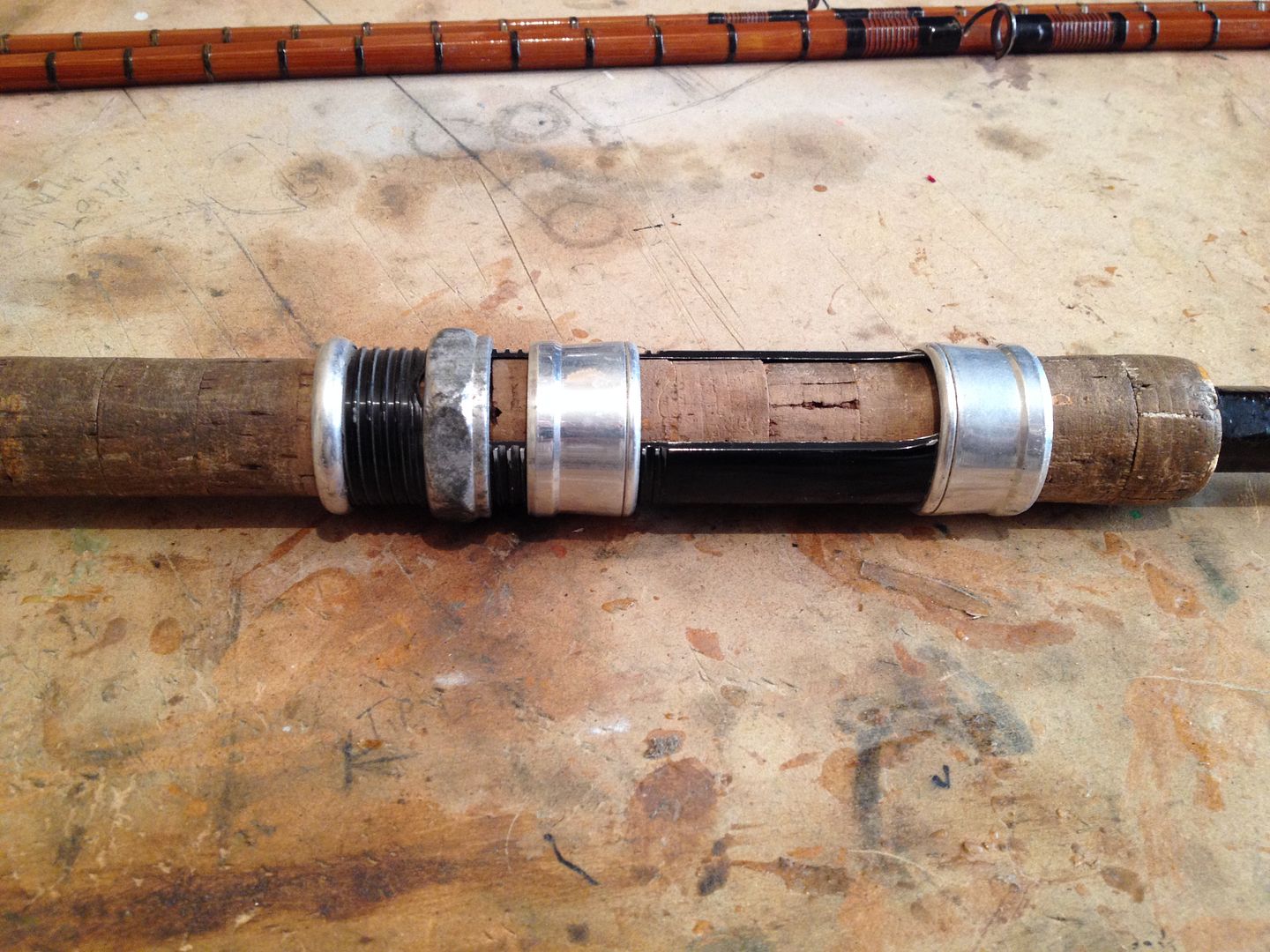 the sections had inters and rather fancy whippings too the rings (these would come in handy actually when replaced ,I can use the liners too make some more vintage style lined rings like I did on a older project ,so bonus)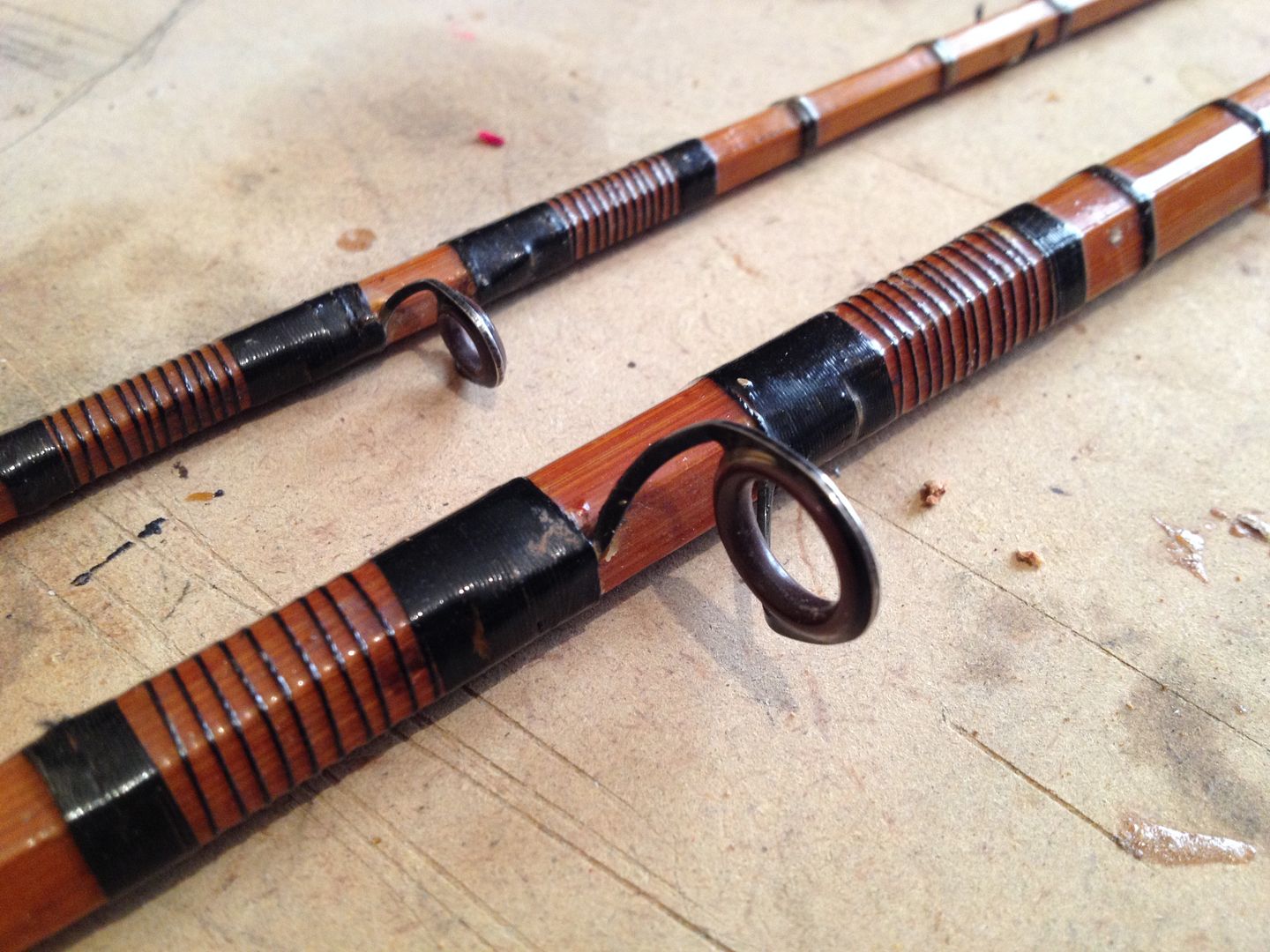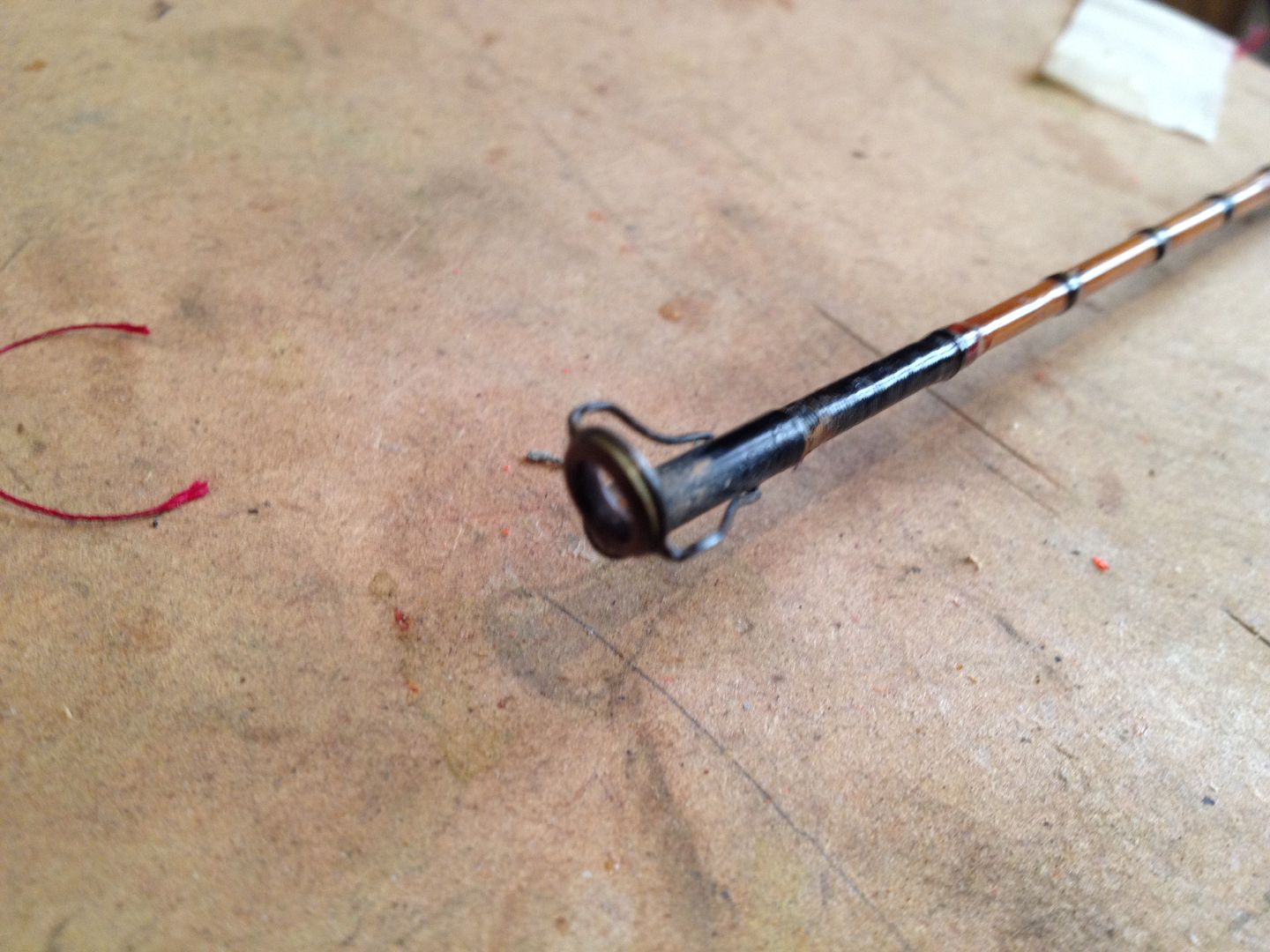 then I checked out the handle and fittings ,this is where it all started too unravel ,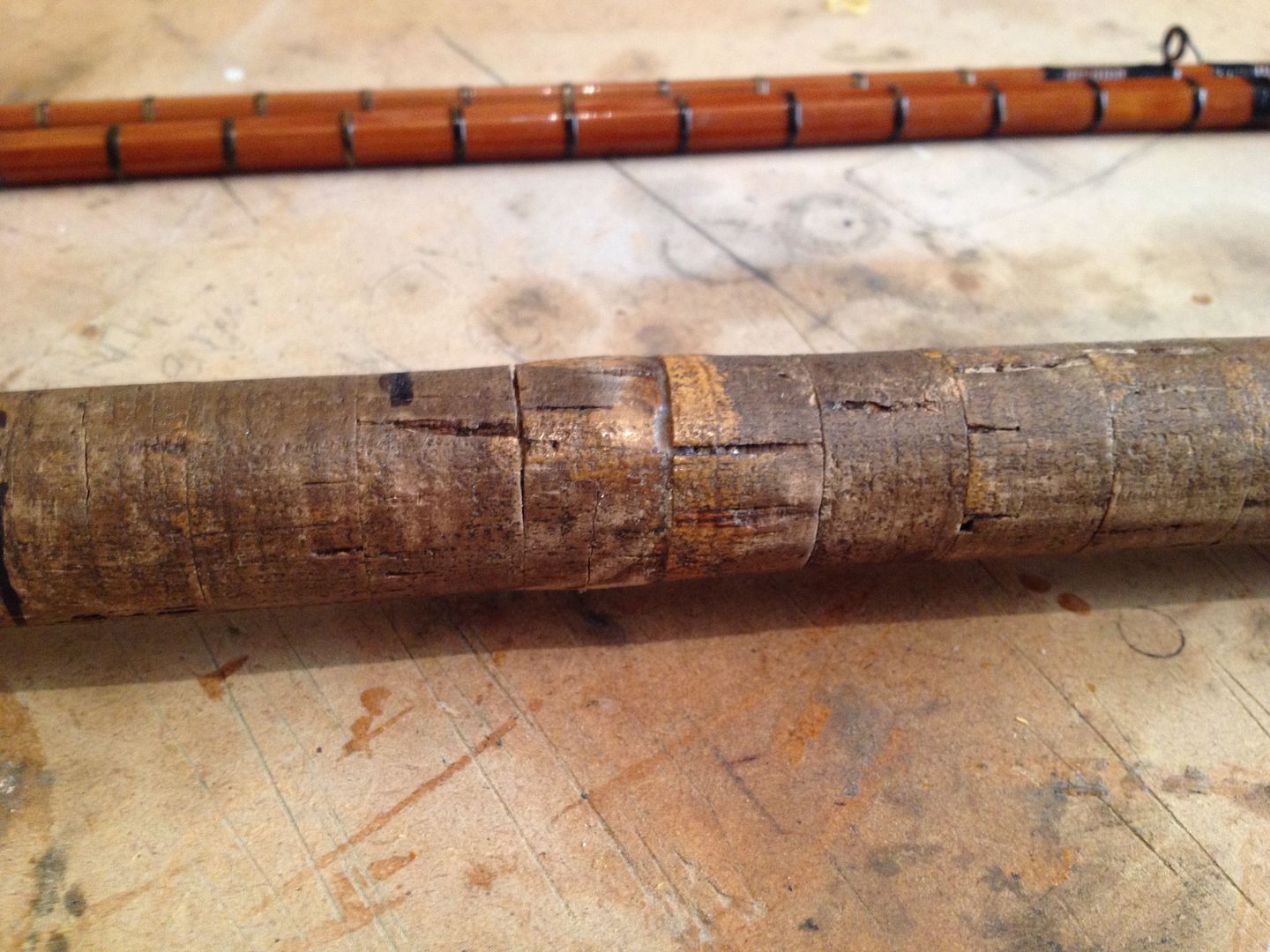 the corks didn't look right ,down the lower end & there was gaps appearing between some rings ,i moved the lockslide fitting down and more evidence of ring separation.fact is it just diodn't feel right a bit spongy actually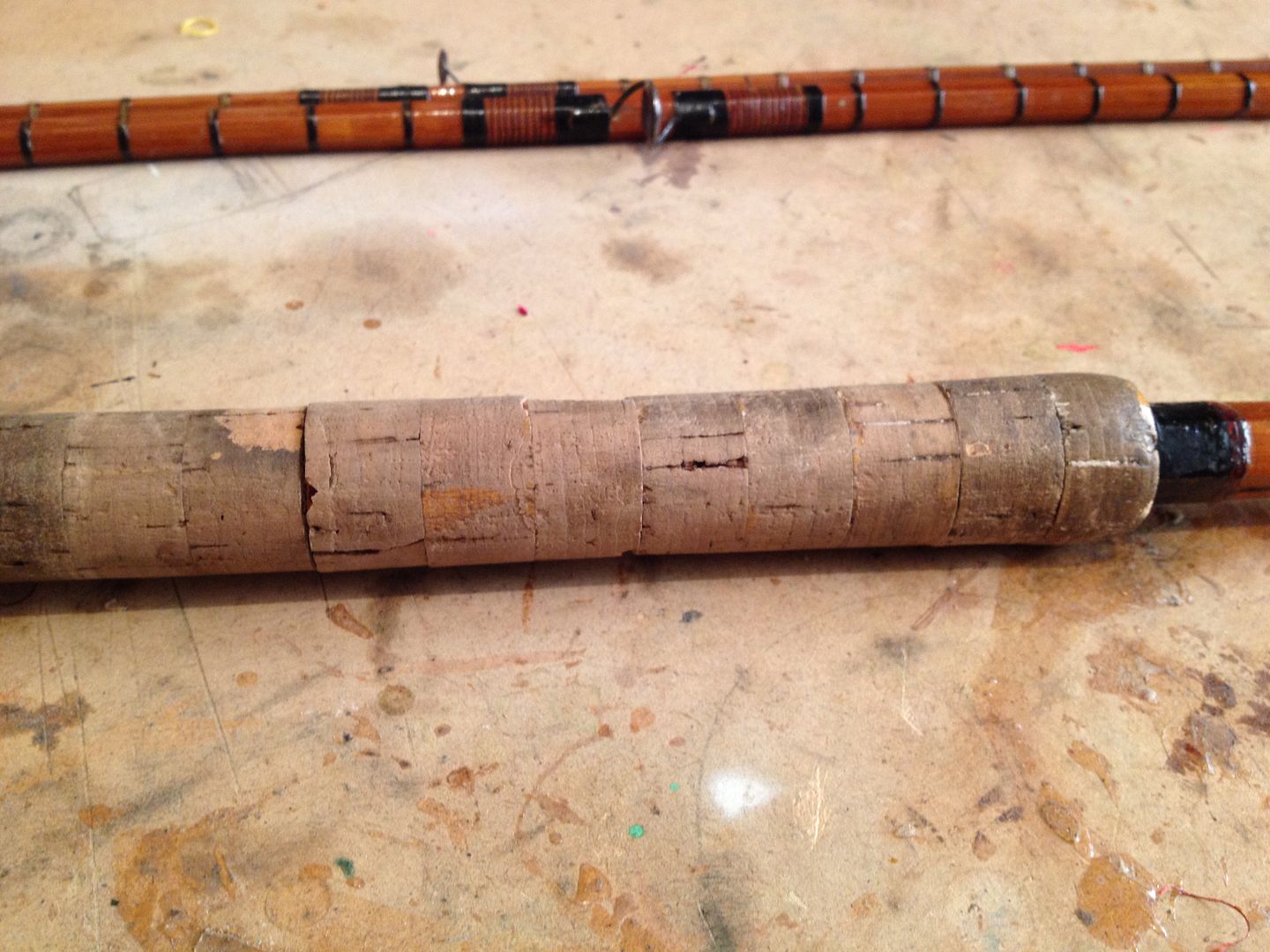 not only was they separating apart ,the cork rings had come away from the blank and you could twist them around .Not good this simple refurb was turning into a much bigger job .well even bigger than I feared ,i'd decided too see the extent of the damage by removing a couple of the loose rings.Got a bit of a surprise didn't I ,all isn't as it seems with this rod not only was I deceived about its actual condition
.turns out its not even a real rod
its a made up one ,although it all looked like a kosher 11ft rod ,turns out under the corks was a varnished and whipped blank
seems its been a cut down longer rod and they didn't even bother stripping the blank ,just slapped some rings /sleaves over the top and used a pritstick to glue it .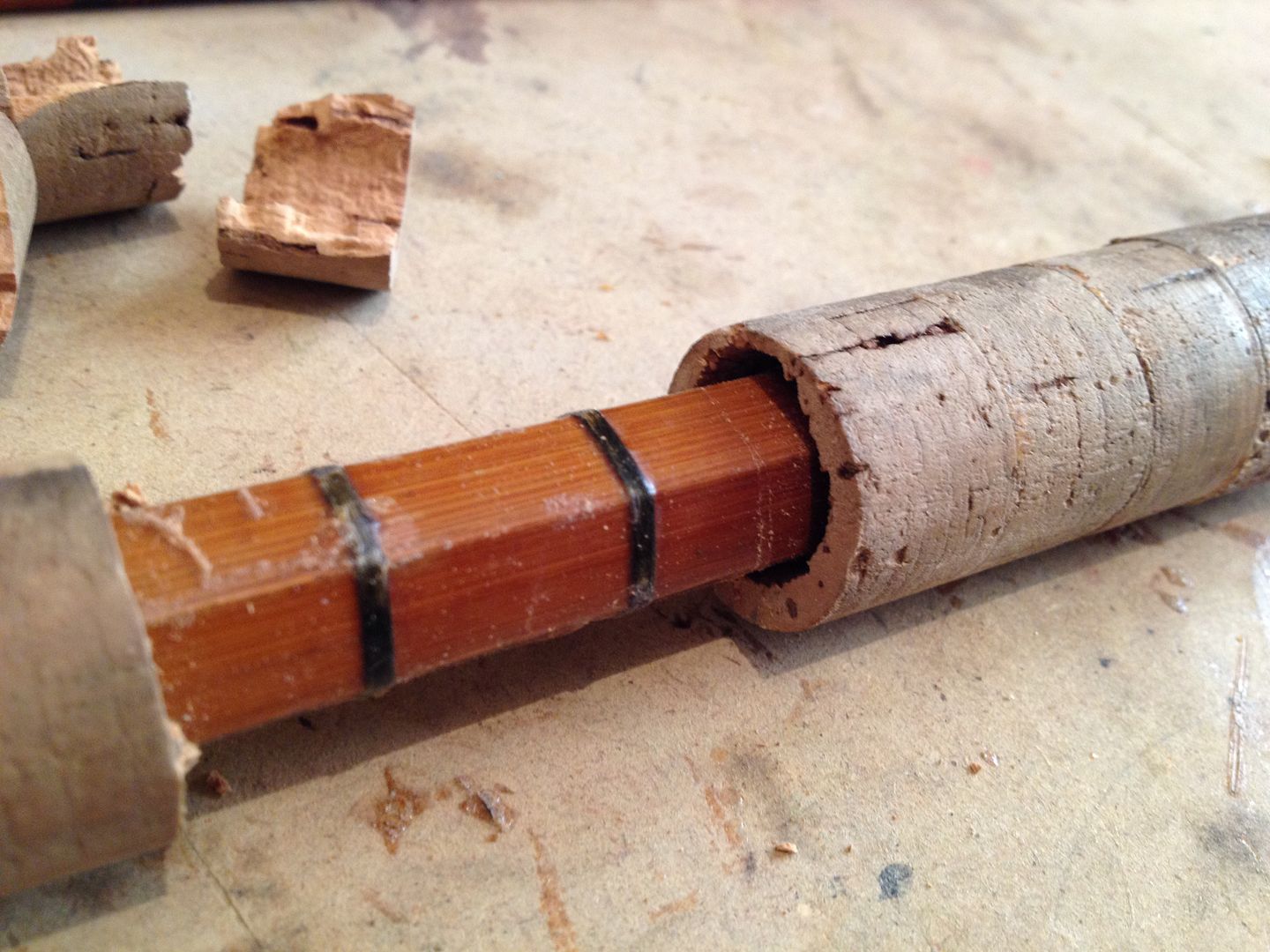 I don't have a problem with what was done ,it would of been nice if they was upfront about it ,wouldn't of stopped me buying it .its a legitimate practice and one I myself do regularly to recycle / repurpose a rod .what I do have a problem with is the shoddy way they done it,just as easy too do it right ,strip back too bare cane ,add a over whip then use proper fitting cork rings or sleeves even a tubed sleave and masking tape arbors ,but no a quick slap dash approach and crap bodge job is what it got .this has just added too the deceit
I removed more of the handles corks and I found out why the bottom end had a bulge/malformed look ,the last 6" was alloy tube that had been hammered onto the cane ,more bodging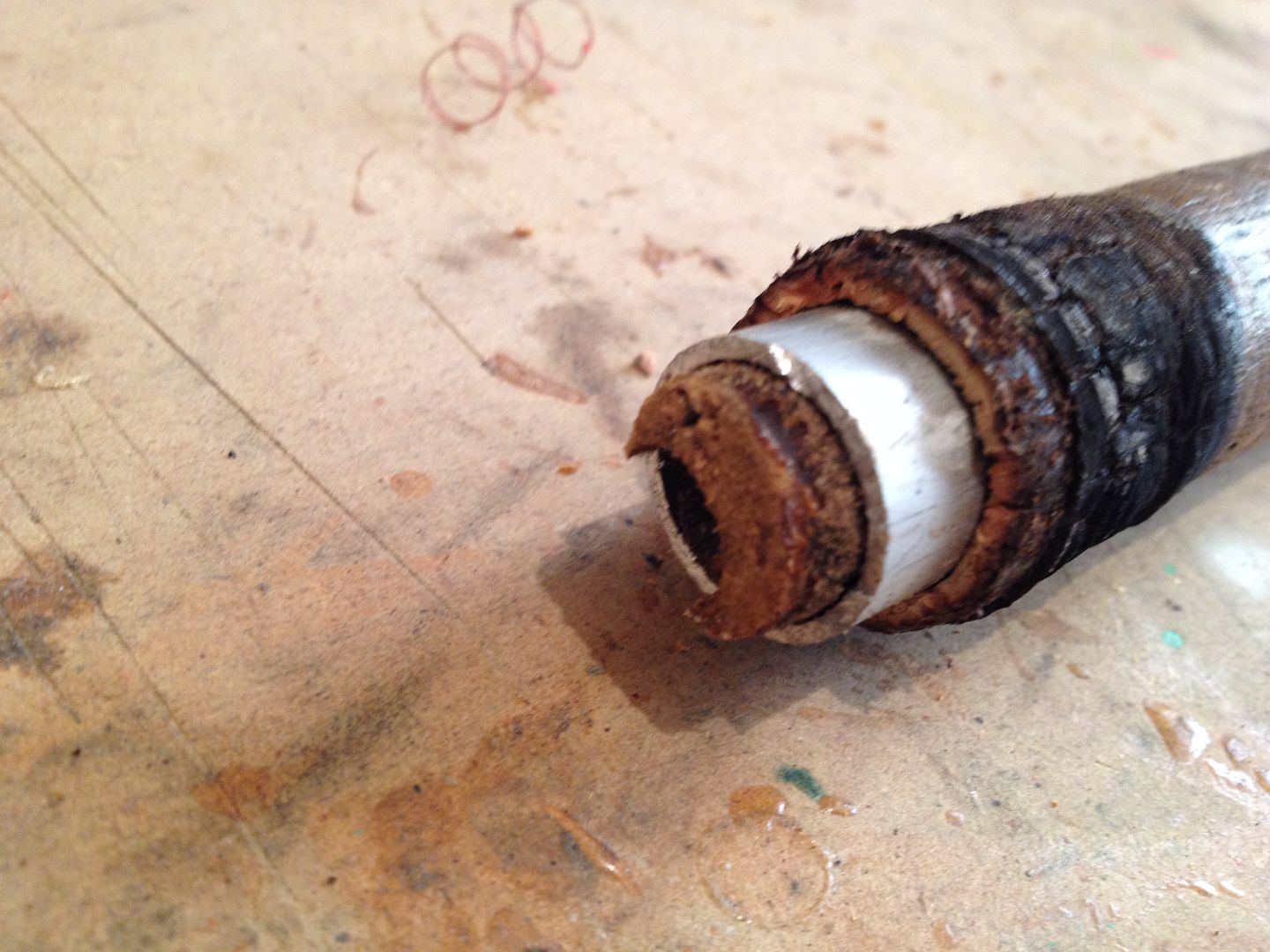 Ok this is really getting out of hand and quickly going from a quick flip too a major overhaul .if I was going too have too rebuild the handle ,I did have a tubed section I could use, i' would do a better job & fit it properly with arbors etc and maybe use a couple of cork rings too top & tail it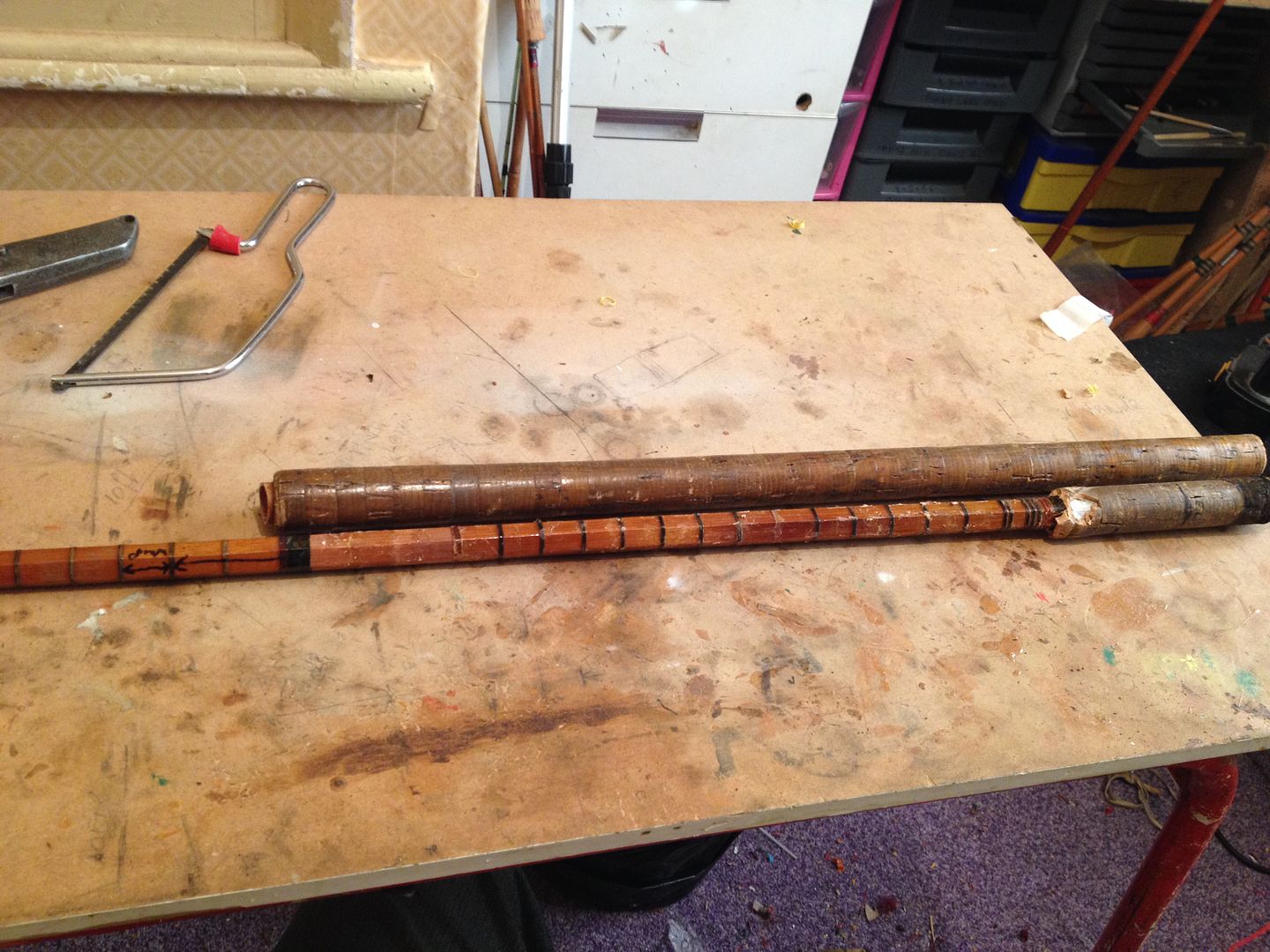 then carefully remove the modern rings and replace with old chrome ones & rewhip in black and blend them into existing whippings . rewhip and fix the ferrules into place .I wasn't sure this rod was worth the extra work of building a new handle .and while I pondered this over a cup of tea
.I thought back too my wizard project that was missing the top two sections .and then Eureka ....
if I was going to go too that much trouble I might as well do it right ,but not refurb it ,but as its sum of parts was greater than its whole ,I can use this as the second donor rod ,forget about the dodgy handle (ok at a later date i'll strip it back ,maybe make a bank stick from it) ,all I would need too sort out was the knocks in the ferrules and fit new rings too the top two sections and using the butts female ferrule to attach too the whole cane rods butt and i'd have me my wizard style rod .