Perch
Posts: 410
Joined: Wed Sep 09, 2020 9:15 pm
2
Location: Hampshire
May I enquire why that is Olly?
Feel free to tell me to do one and not be so nosy!
At the end of the game, the pawn and the King go back into the same box........
---
Gudgeon
Posts: 90
Joined: Sun Mar 05, 2023 5:29 pm
OT.. but
I snapped up a Barbour "Corrbridge" at a boot sale last week £35.00. V. pleased, it is pretty much brand new, even had the instruction leaflet in the pocket. It is labelled "XL". I am a medium if not small, but it fits fine! I looked at the Barbour website reviews, and almost everyone says that the sizing is completely bonkers! Why does Barbour do this?
Also... Are there counterfeits out there?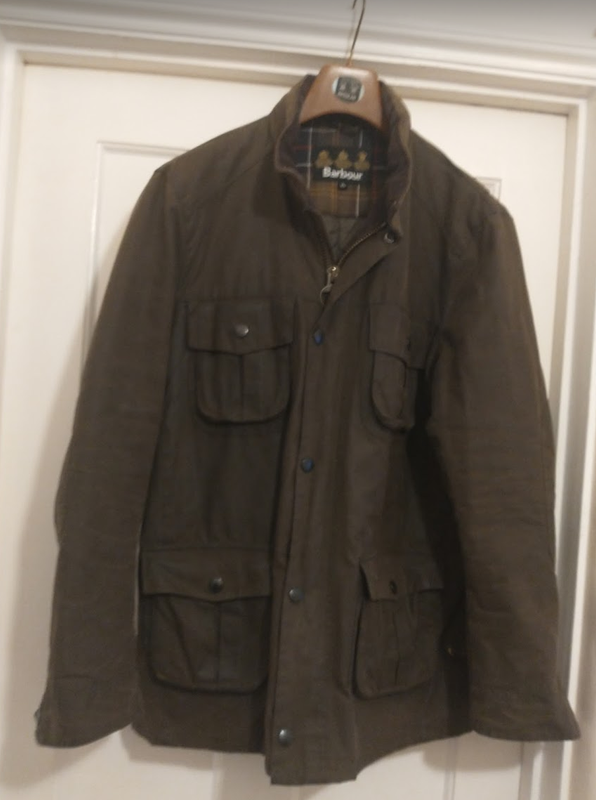 ---
Chub
Posts: 1207
Joined: Fri Nov 13, 2020 4:03 am
2
Location: YORKSHIRE
Have to say that I like waxed cotton.
First off I had a Belstaff motorcycle coat in the seventies and then various waxed coats over the years ( still using a Belstaff Durham a TT leathers waxed cotton motorcycle jacket and a" border " look alike ( branded M'c Orvis) which is serving me well.
Like so many things, the quality of Barbour stuff isn't what it was.
The material is in many cases, is lighter weight than the original .
Barbour are now a "life style" brand and are a very successful business.
It is such a shame that many of their items are now made outside the UK.
Barbour still have a factory in the UK, I am pleased to say and recently Mrs Wanderer had an old and torn Durham, expertly repaired and re proofed by them.
"Not all those who Wander are Lost !"
---
Rainbow Trout
Posts: 3239
Joined: Sat Mar 19, 2016 7:27 pm
7
Location: Surrey/Sussex border
---
Salmon
Posts: 8715
Joined: Sat Dec 15, 2012 12:58 pm
10
Location: Hants/Surrey/Berks borders.
Hi OldRod - - because I gave up Barbour long ago! Cold - stiff - and 'slimy''.

Bouts of pleurisy and one of pneumonia led me to search for a better and warmer material. I bought a jacket/coat which was very different - - layers of waterproof cloth - a heat retaining layer - very like a form of Gortex.

Designed and made in Denmark for hunting/shooting in all weathers. I now have both coats and trousers made by them suitable for Autumn, Winter and Spring.
---
Ruffe
Posts: 65
Joined: Thu Jan 19, 2023 1:34 pm
Location: Wild Wales
As a long time motorcyclist and angler I must admit I don't miss waxed cotton. Spent many years mountaineering too and when I started I wore rubber backed nylon waterproofs, sweaty, I was just at the end of the era when the Munich School would wear black wax cotton cagoules. Sinister looking. Thank goodness for breathable and waterproof clothing.
---
Chub
Posts: 1207
Joined: Fri Nov 13, 2020 4:03 am
2
Location: YORKSHIRE
No doubt about it. We have plenty of choice these days and that is a good thing.
I have a couple of modern, ( technical, as they say) top coats, but I still rate good old waxed cotton, especially for it's long life and durability.

Best of both worlds !
"Not all those who Wander are Lost !"
---